Witness to the Devil
Peter Breedveld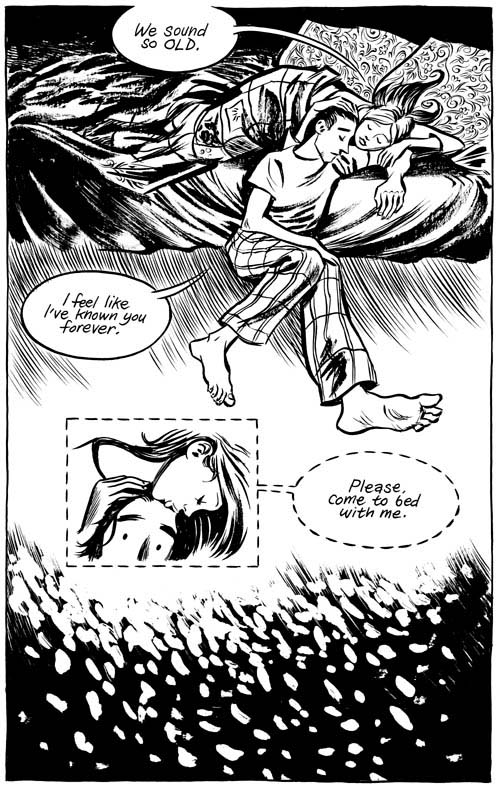 Craig Thompson (1975, US) is the author of the most raved about graphic novel of the past two years, Blankets, translated in Dutch as Een Deken van Sneeuw. Six hundred pages long, Blankets is touching, funny, exciting, melancholic, smart, slapsticky and shamelessly sentimentalistic at times and really, really beautifully drawn. Last summer I spoke to Thompson, who was touring Europe and had just returned from a trip to Morocco.
You must be pretty tired of talking about Blankets for, how long has it been now, a year, maybe?
Yeah, it's been a year and it's gonna continue. In two weeks I will be returning to the States and there it's going to continue during the summer season, so… What I really want at this moment is just to get back and find a home somewhere and get back to work on the next book, which I have started before I left for Europe.
What struck me in reviews of Blankets, but also in interviews with yourself, is how it is agreed upon that Blankets doesn't have a plot, whereas in my view it has a very tight plot. A simple plot, maybe, but still a plot. The main character undergoes a transformation and develops into a different being. Doesn't that consitute a plot?
Yeah, it does. Maybe I say that Blankets doesn't have a plot partly in a self-deprecating way. But maybe, usually I think of plot as being very contrived, action-driven and boring. It sounds presumptuous, but it's more of a challenge to tell the kind of story I did. But it does have a plot. But it's my working class background that makes me very dismissive about what I do. It's part of my personae.
So does saying your book doesnt have a plot legitimize it somehow?
It comes from a sort of working class anti-intellectual attitude. I go like: 'Ýeah, I am just a cartoonist. I don't like to talk about myself as an artist much, or an intellectual. I like to keep it real.
But you áre an artist and an intellectual. There are so many references in your book to literary and cultural classics. Pinocchio, for instance. Craig, the main character, looks like a wooden doll in the beginning of the book. In the end his face looks more natural, with smooth roundings. Like he has grown into a real boy.
That wasn't conscious. But I do think there's a connection. I went through a metamorphosis similar to the history of Western art, from the middle ages to the Renaissance. Even my connection with cartoons is very much a connection to the iconic. I always hated naturalistic, realistic art and that had to do with Christianity. I found the human body offensive, for instance. My first trip to France was ten years ago and I went to the museum and the art there felt like it was pornographic almost, offensive to look at. Because the human form is sexual and sensuous and I much preferred looking at iconic and religious art. And my drawing was more…my identification with cartoons was like, o yeah, they're symbols for humans and over the course of working on Blankets I became more connected with the human body. And even with myself as a person I had to, like, come more into my body as a human being. I was always existing in the brain and in the spiritual realm. Romance and sexuality served as these vehicles that helped me come in touch with my body, with the material world.
How did your family react to Blankets? I read somewhere that your parents had said that it bears witness to the Devil.
Yeah, they were really upset at first, for a number of reasons. They said to me: 'What right do you have to make our private lives public, what right do you have to tell a story at all. Do you think you're special, that you really had this bad childhood?' And I went like, No, no, no! I don't think my childhood was traumatic at all, or at least not any more traumatic than anyone else's childhood. By telling my story I am not saying I am special. I am just opening communication in general. People need to tell their stories. But their biggest problem was always and still is what they think it said about Christianity and like, yes, it bears witness to the devil.
What did the book do for you and your family?
For my siblings, it brought us closer together. Because we really bonded over the course of my working on the book. I do not come from a communicative family. We didn't talk about experiences or feelings. So it was the first time my siblings and I talked about this stuff. And with my family I made some progress, because at least the cards are on the table now, about my beliefs, before we were just avoiding. There was no discussion.
You're not any closer to your family now?
No. But at least they know what's up. And hopefully we are going to make some progress, move beyond now.
Are they proud of you at all?
They're not proud of the content of the book, and the message. They're ashamed of the message. But they're happy for my success. Because I am doing what I want to do.
What is your stand on religion? You don't condemn it it the book, do you?
I do condemn it in real life. I think religion can have a positive effect on society. But I think all religions can have good aspects and are equally ridiculous. I don't believe in Christianity or Islam or anything. I think they're all pretty silly. I think the world would be better off without them, at least with the elimination of the boundaries between them. There are similarities and universal qualities, and er…but I am still a very spiritual person.
People who review your book are not necessarily from the comics field. How does that feel?
It doesn't make me feel special, I don't think it's because I'm special. But I find it good news for the medium. I just think I was just at the right place at the right time and I am optimistic that the momentum will continue.
But you made a masterpiece. Why can't you be more proud of that?
Working class, Mid-Western, humble background. It's not in our nature. Succes is very temporary and fleeting and fickle, so…you know, don't get too caught up in it, because it will be gone the next moment. But I can be very dismissive of all the praise, then I see some review that totally disses the book and that will affect me much more seriously, which is ridiculous. In the States there's The Comics Journal. Nobody reads the thing, it maybe has a circulation of a thousand or something. They have the top ten of books of 2003 and Blankets doesn't even make the list. It has an honorable mention, which was an insult. So I can still be sort of egotistic at times, when I get negative criticism.
Craig, the protagonist of Blankets, grows up in a world heavily influenced by the Old Testament. Then he meets Raina, a woman who is very reminiscent of the woman in the Song of Solomon. The woman that Raina was based on, your first real love, has she contacted you somehow?
Yes. She just asked about the book, so I sent a long, explanatory letter and I haven't heard from her since. So now all I have is questions and fear. I assume she has seen it now and I have no clue how she's reacting. But now it's out of my hands. I don't feel I have the right to contact her. Really, maybe in some sense it wasn't my right to tell the story, well, I think it was my right to tell the story, but it's not my right to pester her. It's up to her. She knows about the book and I assume she read the book, so it's up te her.
Somewhere in the middle of the story a teacher is telling Craig the story of Plato's cave. Is that a comment on your situation when you were still living in your hometown?
It's a big comment on being sheltered, basing the entire worldview on just a small reflection of reality, and thinking of reality. It's also a comment on my relationship with Raina. It never got to the core, to who we really were. It somehow stayed on the surface and I was creating her as a character in my head, in a way. I was idealising her and it took me a while to realize that.
Blankets is about how I saw her as a muse, how she was my inspiration but at the same time she was a destraction. Because I was worshipping her I was lacking a sort of creative drive. Like, she was my muse but maybe her absence was more inspiring. This book is fuelled by longing and loss. It's almost like I have to focus on the temporary, fleeting nature of everything. That is my fuel: the desperation to capture something fleeting. I want to document beauty, that's one of my biggest motivators. I want to document it in almost desperate ways, because I know it's temporary.
Have you been contacted by Hollywood people already, to make Blankets, the movie?
I am not really talking about that, but one of the first things I am doing as soon as I get back, is talk to some Hollywood people. I don't know yet if there's going to be a film of Blankets. It's up to me. I am going to feel things out more. I want to meet more of the people involved. I was approached by three studios. I haven't signed anything yet. I feel a little silly even mentioning it.
That must be exciting.
It ís exciting…I like the idea of collaboration, so the exciting part is the letting go. Like, if I can find it in myself to let somebody run with my baby, that's pretty exciting, because it's scary. But film, ah, whatever. I don't think film as an artform is superior, so…
The next book, Habibi, will be set in the Middle East, right?
It's sort of a pseudo Middle East, a bit fantastical.
Is there a particular reason for choosing that setting?
I am picking up on a lot of stereotypical orientalist things, like Arabian Nights. It's more of a fantasy. If you wanted to tell a cowboy story, you know, the cowboys don't really represent the American West en neither do camels and harems and all that stuff. I want to focus on a fantastical representation of the Middle East.
Is it meant as a comment on the current world situation?
It's an allegorical story. I am commenting on things politically and environmentally in the Middle East, on America's relationship to the rest of the world. But it's essentially at it's core a personal story, a personal and an emotional story. I'd love to make a book like Joe Sacco (author of journalistic accounts in comic form about the Gazastrip and the war in Bosnia –PB) does. But my mind doesn't work the same as his. I don't attach myself to political and literal and historical data. I think and operate and write more emotionally and instinctually. A fairy tale is the best way to describe my next book.
You are not going to deal with the relationship between Islam and Christendom?
As far as the connection between Islam and Christianity is concerned, I am looking for more of the common ground. If anything there will be a positive view of Islam in my story. I am just using it as some goggle of some sort for looking at spirituality.
You travelled to Morocco to do research for your book, right?
Yes. It is a very accessable place for a tourist.
Did you gain any new insights there?
I didn't to be totally honest. But there's something about the sounds and the texture of that country that's going to work it's way into the book. It's a touristy thing to do in a way. I really value the experience, like, yeah, I am riding a camel in the desert. I don't think I gained insights politically. It's not a fundamentalist country although a lot of the conversations I had with locals were similar to conversations I had with my parents about christianity. Very old fashioned at times.
Is this the first time you travelled outside of the US?
I've been to Europe, France, a couple of times before. I've never been to such a contrasting culture in the Third World or anything.
You grew up in a very monocultural part of America.
Definitely. Homogenous. I had never met anyone there who had been outside of America. The two biggest exotic places that people went to was Hawaii, which is a big deal. When your family is really rich, you go to Hawaii and Florida. Those are the big magical places in the world.
Europe must be very different, because it is more mixed.
It's not so much of a contrast to where I live, in Portland, Oregon. I mean I live in a very European city as far as the States go. It's a very progressive, liberal city. It's totally different from the rest of the US. As are San Francisco and New York. The US is so extremely divided. Like for instance in my city nobody voted for Bush. I don't know anyone who voted for Bush. People have been flying French flags in the streets rather than American flags, as a statement. There are protests all the time against Bush. They don't get televised because the American media are conservative.
Why do you bring this up? Have Europeans been bothering you a lot about American politics?
Yeah, and they seem really amazed that I didn't vote for Bush. They just can't conceive of an America without stripmalls and McDonald's and I am like, well, yeah, that ís America, but not my town. Not Portland, Oregon. There áre liberal cities in America, they totally contrast with the rest of the nation. And I have to explain that to people. I have to explain that, literally, it is a fifty-fifty country.
Do you think it's tiresome that you have to explain that all the time? Are you bothered by it?
O yeah! One of the reasons for being in Europe is to explore the idea of being an expat and would I be able to do it. Just get away for a while, but I don't know if that's the way to change anything, you know. I know so many people that want to leave, but if we leave we can't change anything either, so…it's a defeatist attitude.
You want to leave the US?
After travelling for two months I am really homesick for Portland. Because I have been able to recognise the beauty of it. It has the best of both worlds, because it is a progressive city and it has the advantage of an American city: we have a lot more space, clean air, wildlife, nature. It gets claustrophobic at times in Europe, because of the smallness and the density, the lack of nature.
Are you happy?
Er…(Thinks for a long time) That's a really hard question for me. I am not happy but I am not upset about the fact that I am not happy right now. I feel like it's part of the cycle. I am in a part of the ride right now where it's not happy. It's a bit lonely. All this meeting new people has been really great and stuff but still, er, you know, I'd like to meet a girl, have some of those comforts again in my life. You know.
I thought you were with someone.
No. My girlfriend left me and that's why I am in Europe. I had to get away. I am here out of desperation too. Looking for love.
In Europe?
Yeah. No. Anywhere. But no, I mean, I found love. Love is everywhere. But you know, the world is beautiful and I love so many people. I am a romantic, and I would like to be…
But you need that longing! To be creative.To make beautiful things.
Yeah. But it's good to be with someone too. I need some comfort, too.
What is that book you are reading?
I am reading Camille Claudel, in Dutch. No, it's a prop. I hope cute Dutch girls are going to see me read this sensitive novel.
English, Peter Breedveld, strips, 04.02.2005 @ 01:05