A mating of gods
Chinello Ifebigh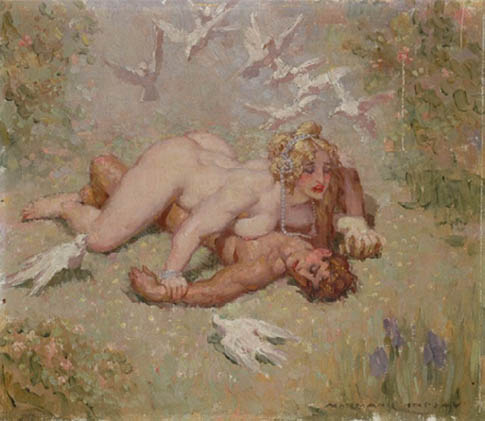 Illustratie: Norman Lindsay
The time is close to 2 a.m. I am upstairs in bed with Fernando. He has positioned me face down with two pillows shoved low under my belly, elevating my butt and hips. He works slowly and unhurriedly. The room is lit by two tiny candles providing just enough light to see what one wishes to see.
It is a warm clear july night. Full moon pours in through the window in the landing. The open bedroom door is directly situated beside this window. From this bed I always have an excellent view of the moon and the stars. A sparse, unadorned attic room with a view. The place where it all takes place.
Warm tongue
Ferdi brushes feather-light kisses on my lower back and butt. Murmuring his appraisal of my womanhood, his longish hair brushes the skin of my inner thighs, buttersoft as his kisses. When he reaches the crack of my butt, he pauses; my breath is ragged with anticipation. I want to turn around and look at his face, yet this is not necessary, I know exactly the look on his face at this moment.
He presses his entire face between my buttocks and inhales loudly and deeply. Aaaaaaahhhhh. I twitch and jerk softly in response. Moments later, I feel his warm tongue dart deeply into my anus and then into my pussy. His breath is warm and moist. The early morning shadow of a beard on his cheeks a gentle abrasion, driving me to the edges of wanting.
He alternates his tongue now between the two entrances and the tight ridge of skin that joins them. Faster and faster now, in time with my own gathering momentum. The little pillow under my face is damp and fragrant with our sweat, tears, drool: every possible liquid that has escaped tonight from the orifices of our bodies.
Liquid honey
With his tongue, abrasive face and hair, he induces a quick sharp orgasm from between my legs. I come again for the umpteenth time this night; twitching, growling, begging and sobbing incohorently. His face is pressed up tight between my legs as I come, to catch full-face, the force of my release. This is the way he likes it most: me riding out my orgasms on his face.
When we both have subsided, a warm numbness glows between my legs. By now, I am satisfied beyond human comprehension. Ferdi stirs sofly and rubs his nose in one fluid line upwards along the crack of my butt. He blows gently on my pussy, a gentle breeze on a glowing ember. Our eyes meet and he smiles.
At this point, my entire body bears a resemblance to liquid honey: trance-like almost, floating in an advanced state of detached relaxation. We have been fucking since 19:30 when he arrived the previous evening, only stopping briefly to eat a small dinner of champagne and a greek salad.
But we are not finished yet.
Feast between my legs
Suddenly with a low growl, he shoves my legs as far apart as they will go and places a third pillow under my belly; tilting my butt upwards by a 45 degree angle. He places his hand on my left butt and without warning, smacks sharply. I feel him watching and watching; his gaze taking in the feast between my legs. Watching me relax and contract my pelvic muscles. Drinking with his eyes, my swollen pussy and the juices of my arousal. I know penetration is imminent. I am impatient to receive him. I wonder into which orifice he will penetrate this time.
He rubs his erection slowly up and down, from my butt to my vagina, as though trying to decide.
From my throat I am producing deep animal noises. Primitive Neanderthal pre-speech which he answers in the same way. In a fluid movement, he places his left forearm under my belly and draws me upwards to his crotch. He penetrates my pussy swiftly with one deep thrust. His right hand is on the small of my back just over the tailbone, with his thumb downwards between the crack. He shoves his right thumb completely into my arse and fucks me intensely like this.
Madness and desire
As we both approach a roaring orgasm, he removes his left hand from under me using it to grab wildly and smack at my hips. I feel each thrust deep within me, tight, slippery-sweet and painful as they come. I am in a strange land, a subterraneous delta of madness and desire. I seem to be slipping in and out of a crack between two worlds, flirting with a strange consciousness.
I am filled with images of Ferdi, fucking me atop an ancient altar in a medievial chamber lit by fires. My face is partially hidden by a golden venetian-style mask. I percieve him as a large male eros entity. Red, martian, beastly, terrible yet beautiful. His black hair extra long now, wild and tangled reaching to his waist. On his forehead he sports a magnificent pair of huge spiraling horns.
His red lower torso is richly verdant with curly pubic hair. There is an animal appearance and quality to his rigid phallus. His lower body is that of Pan: Goatlike, standing tall and proudly trampling dust on two powerful hooves.
Molten lava
I submit myself entirely to this snorting horned god. At the climax, he bends down and bites deeply into my neck. The predator claiming his prey. The alpha male leaving his mark. I drag my fingernails down his back, scrapping flesh as I go. He casts his head backwards and releases a long, gutteral howl. I feel his hot seed flood my womb like molten lava. Everything inside me opens to accept this powerful invasion.
Utterly spent, we both collapse on the bed, Ferdi pulls me close towards him, tight as spoons. He is like a little boy now. He buries his face in my neck still talking Neatherthal gibberish and showering me with light humble kisses, until the tremors leave his broken body.
Chinello Ifebigh is teller of stories, a mother of four, a loner, a lover. The mad woman in the attic, the wild woman in the cellar.
Ook meedingen naar een Frontaal Naakte goodie-bag? Met daarin onder andere exclusieve cosmetica van het stijlvolle Japanse merk Yojiya en een gesigneerd exemplaar van Hassnae Bouazza's Arabieren Kijken. Doe dan mee aan de Zinderende Frontaal Naakte Zomerverhalenwedstrijd. Schrijf een erotisch verhaal en laat de zomerhitte broeien. Lees de spelregels hier.
Chinello Ifebigh, English, Zinderende Zomerverhalen, 13.08.2013 @ 14:02
2 Reacties
op 13 08 2013 at 16:58 schreef Thomas E:
My God, this almost made me come without even touching my dick. Love making at its very best!
op 13 08 2013 at 20:26 schreef erik brugemann:
Wat opwindend geschreven!! Rocking good !!