The Best Movies of 2019 (and the past decade)
Peter Breedveld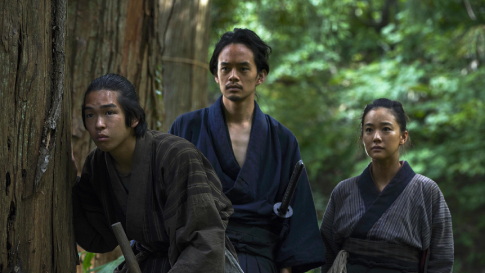 Just recently I realised that we are about to enter a new decade and that I am therefore supposed to present a list of favorite movies from the past ten years. This is hard, because I don't really make notes and ten years is a very long time, in which a gazillion movies were made. So here are the movies that spring immediately to mind and so apparently made a lasting impression on me:
13 Assassins by Miike Takashi, one of the most satisfying samurai movies ever, with a long and violent climax and which looks at the idea of honour and loyalty in a refreshing manner. The Tree of Life by Terence Malick, one of my favorite directors. A hypnotising drama, beautifully filmed. Still the Water, a dream-like ode to life by Kawase Naomi, also one of my favorite directors. Ich Seh, Ich Seh by Veronika Franz and Severin Fiala, considered by many a horror movie, but I found it deeply moving, about loss and grief. After the Storm by Kore-Eda Hirokazu, whom I interviewed, by the way. I love all his movies, but this one has a performance by the marvelous Kiki Kirin (who sadly passed away this year) that I love especially. Park Chan-wook's The Handmaiden is a wonderfully erotic crime noir. The Outrage trilogy by Kitano Takeshi, I think the best work he's ever done. Cold Fish by Sono Shion is one of the wildest movies I've ever seen, especially actor Denden is maniacally funny and scary. The Drudgery Train by Yamashita Nobuhiru is a gripping movie I think about often, about a young man who desperately tries to fit in but just doesn't have the talent for it. Pieta in the Toilet by Matsunaga Daishi is another movie I think about a lot, about a young man with terminal cancer, and a girl who will not let him give up just like that. The girl is played by Sugisaki Hana, who is a ball of crackling energy, a brilliant actress. Phantom Thread by Paul Thomas Anderson was quite a spectacular feat.
2019
Here is my list for 2019. Mind you, I've seen a lot of movies, but I have also not yet seen a great deal of them. So if you're wondering why the new Pedro Almodóvar is lacking, I haven't seen it yet. Same goes for the new Ken Loach. The Irishman, dare I say it, I found a little bit disappointing.
10: Ivan Kavanagh: 'Never Grow Old'
So glad to see John Cusack in a good movie again, after so many years of mediocrity since I think The Ice Harvest, his last great film before Never Grow Old. Here he plays the villain in a moody western that is misanthropic but not entirely without belief in the good of man.
9: Ari Aster: 'Midsommar'
You know all those horror movies about voodoo, that delve into white people's primal fear of black people and "exotic" cultures? This movie nails exactly what is so scary about white people. Out in the open, surrounded by a sea of colourful flowers, basking in the bright sunlight during a glorious summer, a woman and her four male friends find themselves entrapped by happy, shiny people who you know will happily, positively lead them to their cruel end. This movie is also about a very toxic relationship. Florence Pugh, who plays the main part, is fabulous.
8: Sakamoto Junji: 'Another World'
Another World is a slow-paced drama, brimming with atmosphere. A very good movie, but what really blew me away was Ikewaki Chizuru as a worn-out, chronically over-exploited wife and mother, who nevertheless never loses her fighting spirit and her natural authority over all the other characters. Ikewaki plays her by looking and being as real as she can, a cuddly but somewhat cranky housewife containing a core of swirling lava. A silent wonder. More extended review here.
7: Jordan Peele: 'US'
I like US a lot better than Get Out. It's a very intense horror movie that had me on the edge of my chair from beginning to end, and it's also very funny. And the main part is by Lupita Nyong'o, who is a goddess.
6: Yorgos Lanthimos: 'The Favorite'
After The Killing of a Sacred Deer I had decided to never watch a movie by Lanthimos again. Not because he's not one of the most gifted directors around, but because I'm too weak-hearted for all that nihilistic cruelty. But The Favorite is sardonically funny and irrestible, a true delight. Wonderful acting too.
5: Eguchi Kan: 'The Fable'
I haven't even been able to finish this movie, due to the nincompoops of the Camera Japan Festival in Amsterdam, who apparently had only one copy of it on a disc, which they damaged. So we were sent home without knowing how this violent yakuza comedy ends, but what I've seen so far was so wildy entertaining that It's still one of my favorites this year. Hope to see it somewhere again before too long. More extended review here.
4: Yamashita Nobuhiru: 'Hard-Core'
You have to see this to believe it, but that goes for most of Yamashita's movies. Hard-Core, based on a manga, is an amazingly intricate film and the more surreal it becomes, the more real it gets. Very good acting by Yamada Takayuki (very intense, Marlon Brando meets Mishima Yukio) and Arakawa Yoshiyoshi (Japan's favorite moron, kind of a crossing between Zippy the Pinhead and Curley from the Three Stooges). It's about three guys and a robot searching for some shogun's hidden gold, a children's adventure for grownups, multi-layered, very funny, very grim, very tragic, about friendship, love, sex, loneliness, loyalty and being marginalised by society. Yamashita always shows a profound understanding of human nature in his films.
3: Sekine Kosai: 'Love at Least'
Intelligent movie about severe depression, that is also very empathic and humane and also really funny at times. The main role is a real tour the force done really impressively well by actor Shuri (just a single name), who overwhelms the viewers with her electric presence and wins them over with her undeniable, quirky charm. More extended review by me here.
2: Julian Schnabel: 'At Eternity's Gate'
The ultimate Vincent van Gogh movie. Not about an excentric wild man going crazy, like so many other Van Gogh movies, but about an artist who does what he must do, even if the whole world seems to be against him. About passionate love for art and painting. Great acting, perfect casting and beautiful cinematography, with stunning landscapes. Gripping and very, very moving.
1: Tsukamoto Shinya: 'Killing'
This year's best movie I saw right at the beginning of this year, at the International Film Festival Rotterdam, and no movie I saw after that topped that. Short, snappy and really intense, this atmospheric samurai flick from the director of the legendary cult-horror movie Tetsuo the Iron Man. The best thing about it is Aoi Yu, an intimidating force of nature who rises above herself and everything she did before in every new movie she stars in. But really everybody is very good in Killing, which is a deconstruction of samurai movies, masculinity and the myth of courage.
Film Reviews, Lists, Peter Breedveld, 27.12.2019 @ 16:23