The Best Television Series of 2017
Peter Breedveld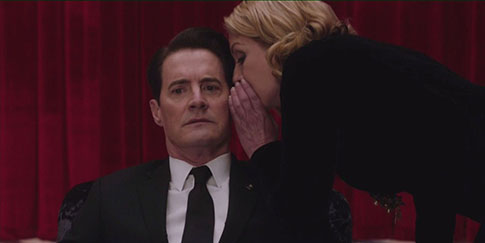 This is my personal top ten of this year's television series. I have indisputable taste, but by no means have I seen everything that was on TV these past twelve months. This is a list of what I liked the best of everything I have seen (and didn't forget about).
There are some series I have been watching for the past few years, which belong to my favorites ever. But to avoid presenting more or less the same list every year, I have kept them off this year's list.
These are Better Call Saul, which keeps getting better with every new season, Fargo, although the premise of the sleepy town where supposedly nothing ever happens and all of a sudden another orgy of hyperbolic violence breaks out "for a little bit of money" starts to lose its credibility after a movie and three seasons with that exact same premise, Peaky Blinders, which suffered under the dreadful portrayal of a Sicilian gangster by Adrian Brody this year, but luckily had Tom Hardy's irresistable Alfie Solomons saving the day halfway the season, The Walking Dead, which always has a few exhilarating episodes and always a few dreary ones, Transparent, Mr. Robot and The Americans, the final season of The Leftovers, one of the very best things on television ever, the final season of Girls and Preacher, the second season of which is much better than the first,
One series that was on the list last year I will put on this year's list again because no-one else has it among their favorites, which I find incomprehensible. You simply must see it.
Well, here goes.
10: Godless
I suppose this is a feminist take on the Western genre, but it has a lot of extreme violence in it just the same. It's feminist in the sense that women are not just the whores and preacher's and greengrocer's wives in this one, and not the victims either. The action takes place in a town where most of the men died in a mine accident, so the women call the shots.
Great role for Jeff Daniels, who plays the villain, a charismatic gang leader who gets his arm shot off in the first episode.
There are some things I doubt would really have been possible in the Wild West, like a woman walking around town completely naked all the time and another woman being more or less openly involved in a lesbian reationship, but what do I know, right?
9: Better Things
I wasn't aware that this great comedy series about a single middle-aged actor and her three headstrong daughters was co-created and co-written by Louis C.K., who I knew was a hypocritical, preachy wanker before I knew he was literally a hypocritical, preachy wanker.
I must confess it diminished my enjoyment considerably, suspecting Louis' lecherous insincerity behind everything, from the storyline involving an adult male having a sexual relationship with a teenager to the eldest daughter of the house walking around in her undies. I would have considered that scene a healthy resistance to American prudishness, but knowing C.K. was involved I felt like a dirty old man myself for seeing it.
However, Pamela Adlon, who created and wrote this together with C.K. and who plays the main part, is just fantastic in this series, as is everyone else. Quirky, energetic and thought provoking, hopefully a mirror for many men out there, especially those who think of themselves as feminists.
But most of all Better Things has a warm beating heart, it's about love. This is The Cosby Show of our time. Oops, what did I say. But it's just a great series, with Louis C.K. involved or not.
8: Curb Your Enthusiasm
The long awaited ninth season is not nearly as good as the preceding seasons, but hey, it's Larry David who, one of my sons once said, is exactly like me.
Which is not true but I am not ashamed to admit it contains a kernel of truth. I am, as David is, unfiltered en unmodulated, which is good in humans, but not with tap water!
David has a fatwa on his ass this season and meets, among others, Salman Rushdie and Lin-Manuel Miranda who stars in his play Fatwa the Musical. Filled to the brim with social awkwardness and bickering about stupid etiquette.
Admit it, most of the time David is just right and everybody else is wrong.
7: The Handmaid's Tale
It took me a few episodes to warm up to this but then it gripped me and I even binged this series, something I rarely do.
It's about a future USA not so radically different from the USA today, ruled by a Christian-fundamentalist party which bans feminism, persecutes and executes non-cisgenders and uses the Bible as legitimation for the most inhuman, oppressive, cruel dictatorship imaginable, and naturally also for the most blatant hypocrisy.
There's bound to grow resistance, and you see it grow slowly in this first season, almost entirely carried by the main character played by Catherine Moss, who pairs a fragile vulnerability to a certain unwielding toughness.
A great role is played by perhaps one of the most underrated actors today, Ann Dowd (who is phenomenal in The Leftovers too), as a nun-like sadistic bitch who is, however, not entirely devoid of humanity.
6: Legion
I love this Marvel-adaptation based on one of the X-Men comicbook series (a character from that series co-created by genius artist Bill Sienkiewicz, to be precise) for the sheer guts of the makers alone. No ordinary super hero fare but a psychedelic, surealistic roller coaster ride into the most dangerous territory of all, the human mind.
This is sort of like a crossing between A Clockwork Orange, Christopher Nolan's film Inception and Le Voyage dans la Lune. It is totally nuts, unfathomably smart, kaleidoscopically multiformed, it's beautiful and wonderful and the greatest thing in it is Aubrey Plaza as a super dangerous but utterly charming lunatic with shit-scary psychic powers.
5: American Gods
I have always been a big fan of the book by Neil Gaiman, who I once dined with, by the way, in Indonesian restaurant Istana in The Hague (I dined there with Berni Wrightson as well), and I must say I am not disappointed with the TV-series, which looks beautiful, has some of the best actors of today (Ian Mcshane in his best part since playing Al Swearengen in Deadwood) and it's darkly funny, sexy, thrilling, over the top and philosophical in a way only Neil Gaiman can, staying accessible without being condescending.
It's about the ultimate war between the traditional gods from all the original cultures of the forefathers of the American people and the gods of capitalism and consumerism, with us mortal folks caught in between. Or no, we are the cause of all this mayhem of course. Not to be missed for Bowie-fans, because Gillian Anderson does a beautiful Ziggy-era Bowie impression.
4: Taboo
This one not only has Thomas Hardy in it, which is reason enough to enjoy anything, but Oona Chaplin as well, besides a whole bunch of fine actors. How shall I describe this? It's a historical adventure set in the early 19th century, starring an anti-hero with a pitch dark past, who dabbles in witchcraft and takes it up against the King of England and the East India Company, who want a piece of land he owns in North America that has great strategic value to the British, who are at war with the United States. Violence, intrigue, incest and dark, murky 19th century London, this series has it all, besides Oona Chaplin. And it's very weird.
3: Versailles
This must be the most underrated series on television right now. It's on nobody's list of favorites and I find that incomprehensible. Versailles, about the intrigues at the court of the French king Louis XIV is irresistable. It's thrilling and sexy, looks stunning with some of the most beautiful actors and it's very, very educational.
It's not exactly historically accurate. For instance, Louis keeps talking about the lynching of the Dutch politician Johan de Witt as if De Witt didn't have a brother, Cornelis, who met the same fate at his brother's side.
But man, there is a poisoning scandal involving a baby-mass-murdering witch and a courtlady mixing grinded baby in her king's food which seems too hysterically bizarre to be true but I looked it up and it all really happened! The fact that Louis' brother Philippe's homosexuality was not just tolerated but even welcomed at the French court, seems to be based on fact too.
Also as a Dutchman it's nice to see the war between the French and the Dutch told from the perspective of Louis XIV, who was depicted in the history books at school as a kind of a delusional fop in a sunflower costume, but seems to be sincerely motivated by his love for the French people in this series.
There must be more people appreciating this wonderful series, because next year will see a third season.
2: The Deuce
Martin Scorcese meets Spike Lee in this colourful portrayal of the lives of sex workers, pimps, gangsters, policemen, a barman and his personel, his hustling twin brother and a pornographer in seventies' Manhattan. Not as grim as you would expect but not for children either, with great starring roles by James Franco, Maggie Gyllenhaal and Lawrence Gilliard among many others, with an authentic, old-fashioned feel but definitely a feminist take and a mouth-watering musical score.
1: Twin Peaks: The Return
Perhaps not surprising because every snob has this high on her or his list and I've even seen it on some movie lists, but this simply is the most amazing thing I've seen on television in 2017.
I found it frustratingly incomprehensible at times but every episode haunted me for a week until the new episode. The new Twin Peaks also has rekindled my love for David Lynch and my interest in the first two seasons is deeper now than it was in the eighties.
I guess nobody really expected Lynch to make this into a nostalgia fest with the return of old familiar faces as the main attraction, but something this fresh, this innovative is more, much more than I dared to hope for.
Exciting and deeply philosophical, engrossing and quite often extremely disturbing, right up until the last scream in the last second of the last episode.
However – dare I say it? – Twin Peaks: The Return is also one of the funniest things I've seen. Not just because Kyle MacLachlan moves about most of the episodes as an American Monsieur Hulot, but also because the story is downright hilarious. Twin Peaks: The Return is like the ink black, nightmarish version of The Marx Brothers, nihilistically anarchist yet disciplined in its inherent logic, or at least I suspect so.
Also, David Bowie being reincarnated as a steam kettle of some sorts was very, very touching.
Lists, Peter Breedveld, Television, 27.12.2017 @ 14:50
7 Reacties
op 27 12 2017 at 16:45 schreef Martijn:
The amount of good series is stunning these days, good to have some pointers. :)
The Leftovers is definitely amazing yes. I loved it so much.
Also loved Curb Your Enthusiasm and The Deuce. Can't wait for next season (as The Wire and Treme got amazing in the second season too).
The Handmaid's Tale scared the fuck out of me. Alias Grace I liked too.
My recommendation (in case you missed it) would be Detectorists. So endearingly uneventfully British.
A more acquired taste would be Ash vs. Evil Dead which I liked much more than expected. Also because of the PC agenda which Pepe fans will hate, but it's done right with a good sense of humour.
op 27 12 2017 at 19:45 schreef Onderweg:
Nice list, I absolutely agree with what you wrote about the Leftovers, the third season is stunning, one of my favourite seasons of anything ever.
The one thing that tops it is, indeed, Twin Peaks: The Return. Incredible, intense, ridiculous, frustrating, wonderful, scary, tremendously funny, infuriating, marvelously daring Twin Peaks.
op 28 12 2017 at 01:36 schreef Rena Breed:
Just watched Versailles S01. And yes..we LOVE IT! Also saw Taboo and Handmaid's tale.
We loved Girls and Transparent. Two series I think most men based on the title might not risk watching. ( lucky me, I have a husband who love both)
Hardly watch movies anymore. Will look into some of your other suggestions.
First episode of Peaky Blinders did not do it for me. Perhaps try again?
op 28 12 2017 at 01:47 schreef Rena Breed:
Yes! twee seizoenen Better things! I love Pamela Adlon!
op 30 12 2017 at 23:12 schreef Sasha Berkman:
Damnation: http://www.imdb.com/title/tt6106704/
ps.
Pamela is a heartwarming.
op 31 12 2017 at 13:55 schreef Eduvas:
What about:
Erased (Bokudake ga Inai Machi)
http://www.imdb.com/title/tt7573686/
op 31 12 2017 at 15:01 schreef Luisa:
Fijn dat het eind december is, want dan komt Peter met zijn top 10 lijsten. Versailles vond ik in eerste instantie he-le-maal niks. Toch volgehouden, en ik ben het met je eens, prachtige kostuums, sexy en leerzaam. The Handmaid's Tale: geweldig, maar ook angstaanjagend omdat het maar al te makkelijk realiteit kan worden. Better Things vond ik ook heerlijk. Ik was het al vergeten, en nu hoor ik dat er een 2e seizoen is! In deze top 10 staan een aantal die al op mijn to-watch lijst stonden. Must-watch, dus.