Mecca Cola
Richard Letterman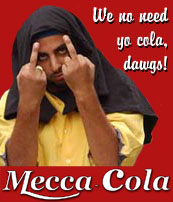 Being an international man of danger such as myself doesn't necessarily mean cobra venom and monkey eyes at every meal. No, occasionally I get those rare forbidden fruits straight out of Arabian Nights that no average white man gets to experience, such as "prunes" and "yogurt". Don't be embarrassed if you find yourself baffled or unable to pronounce these delicacies, it's not your fault you're just an ignorant rube.
Recently, while shopping for prunes and yogurt at the local Turkish market, I came across the infamous and mysterious Mecca Cola. I didn't even bother looking at the adorable price tag… of course I could afford it! Being respectful of the other cultures in the vicinity, I didn't laugh out loud for very long. I collected my purchases and hurried home to discover what it was like to be a Palestinian teenager in the comfort and safety of my own home.
To set the mood, I removed my shoes and socks, turned off the electricity and encouraged my neighbor to barge in and wreck the place whenever he felt like it. I sat in the floor and poured a glass. It had the distinct aroma of cola, which was an excellent sign. It had bubbles, which meant they bothered to carbonize it. To say I was excited at this point would be an understatement. The Middle East creating their own cola is the equivalent to the United States landing on the moon. It's a symbol of progress and the ingenuity of all mankind. I took a long and steady sip. It tasted pretty shitty.
I stopped myself there, since I wasn't really being fair to Mecca Cola. The whole "ingenuity of mankind" speech I was giving aloud to myself sort of set the standard of enjoyment to such a level that no cola on earth could ever achieve. Actually it tasted a lot like the discount Always Save cola you poor kids drink. I was becoming a bit worried about the future of Mecca Cola. That was when my American LET'S ROLL attitude collided with my GO GET ' EM work ethic. If they can't get it to taste better than this, then they better have some KILLER ADVERTISING and fast!
Spokesman for print and television:
Remember Eminem? The bad boy even your Grandma adored? I propose a Muslim version named Meccaecca. Meccaecca don't take no shit from nobody. With a mix of American slang and anti-American attitude, the kids will be lining up to jump on the bandwagon of senseless hate and aggression. Proving to America once and for all that they don't need the U.S. to get fat and have bad teeth, Mecca Cola will become the symbol of a new generation of politically motivated consumerism and obesity.
Commercial treatment 1:
Suicide bombers rush into a busy Jewish market. People freeze in terror. The suicide bombers open their coats to reveal… MECCA COLA! The Jews start drinking Mecca Cola and convert to Islam. The market turns into a big party.
Alternative ending: All the Jews die.
Commercial treatment 2:
Inside a hospital, a Muslim woman is about to give birth. The father waits nervously. The child is born and it's a GIRL. The new father weeps for being cursed with such a burden, asking Allah what he has done to deserve this. The doctors and nurses remove their masks revealing The Vengaboys. The Vengaboys place the newborn girl back inside the womb and pour in a bottle of Mecca Cola. They start singing "Boom, boom, boom, boom! Mecca Cola in your womb!" They then remove the baby from the womb once again and it's now a male. The delivery room turns into a big party.
Commercial treatment 3:
An undercover Muslim is shooting footage at the local Coca-Cola bottling plant, where it appears they are using live pigs in the production of Coke. The undercover Muslim is discovered and he drops his hidden camera. The final scene from the tape is the Muslim being beaten by Coca-Cola employees. Then, Americans from all walks of life emerge from the shadows and begin to devour the poor Muslim alive as he screams and tries in vain to collect his entrails from the floor. Holy fucking shit! Those Americans are some sort of crazy devils! Catchphrase: All of the cola, none of the pork!
I've yet to hear back from Mecca Cola, but with their mediocre taste and my marketing brilliance, you better start shopping for hijabs. Jesus Christ himself wouldn't be able to resist the cool refreshing taste of Mecca Cola. I wonder how much it would cost to get him back down here for the next Superbowl…
Richard Letterman is an American graphic designer who's been living in Amsterdam for several years. His website Eel.nu is a personal collection of true stories and obvious lies. When he's not writing he enjoys keeping pub stools warm.
English, Gastschrijver, 04.02.2005 @ 13:18