Why are you naked?
Peter Breedveld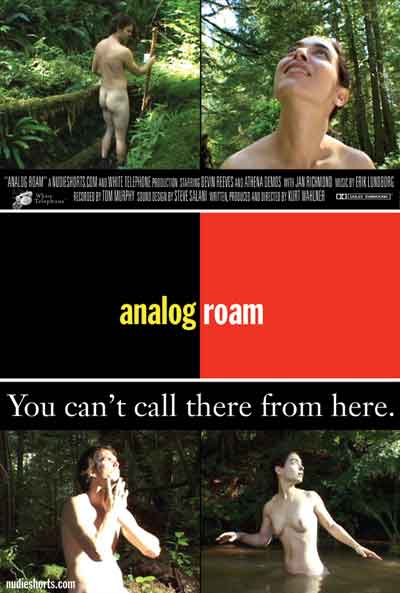 Two years ago, the American director Kurt Wahlner delivered the first of his "Nudieshorts" called Analog Roam. Nudieshorts are short films meant to spread the happy gospel of naturism.
Why are you naked?" is a question naturists are asked many times. And it is a difficult question to answer — how do you explain the joy of naturism to non-naturists? The American filmmaker Kurt Wahlner has wrestled with this since discovering naturism. It resulted in a short film called Analog Roam.
In this film, a man and a woman leave their hectic stressful everyday world behind and take seperate naked walks through a forest. Halfway through, God appears to both of them. "Why are you naked?" He asks. "It is the central question of the film," says Wahlner.
The film is done in the so-called 'split-screen' format where the viewer can see the man on one half of the screen and the woman on the other. The different reactions of both people to the same situation becomes clear through this approach. For instance, when God appears, the man, embarrassed, quickly jumps into a grove, explaining that he is not usually naked. The woman initially acts like someone who is conditioned to be ashamed of her nakedness too. They both rapidly realize that their nakedness is their natural state, then they thank God for the natural setting that they enjoy.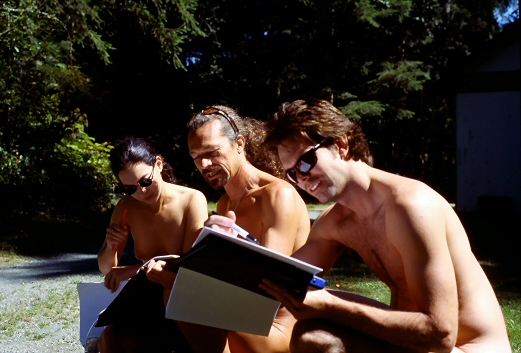 Analog Roam star Athena Demos, director Kurt Wahlner and co-star Devin Reeves at the set
Analog Roam is not a naïve hymn to naturism. The main characters, played by Athena Demos and Devin Reeves, sometimes feel helpless and lost in the forest without their clothes. "But I never meant to make fun of naked people", says Wahlner. "I did play with the fact that most people think a person without clothes is a person without dignity. Take the scene at the end of the film, where the man, naked, stands along a road hitchhiking. No matter how you shoot that scene, it just looks silly. But by the end, I think that as the characters reflect on their notion of life, this makes them sympathetic in the eyes of the public."
The actors are relaxed in their nudity because everyone was naked during the shoot. "I didn't ask them to do anything that I didn't do myself", Wahlner says. The director felt that this would strengthen their confidence. "Besides, our working naked in that beautiful setting really opened a lot of doors for us creatively."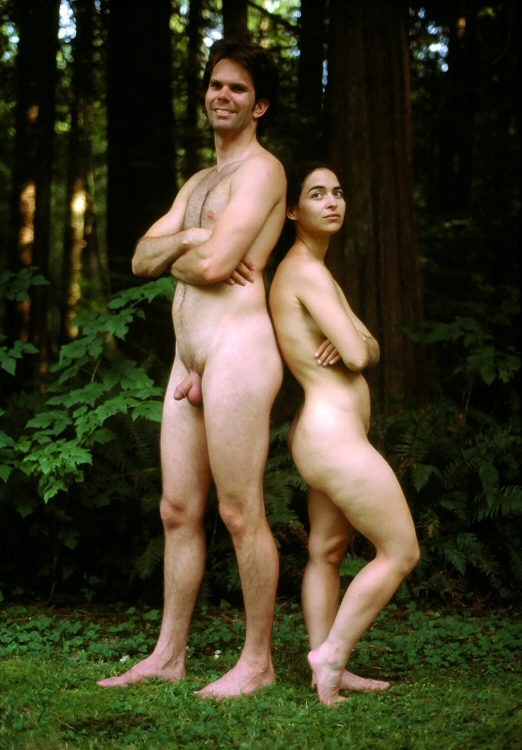 Analog Roam stars Devin Reeves and Athena Demos
Wahlner submitted his film to the jury for the annual Oscar film prizes. "In order to do that, your film has to play for a one-week engagement in a cinema in Los Angeles. Early on, I asked a friend who owns a movie theatre, to place the film on his program. He did, and so I qualified to enter the contest."
He had no idea of what the jury would make of his film. "After the nominations were announced, they sent my print back without any comment whatsoever. But they must have been pretty surprised by it."
He had more succes presenting the film at naturist clubs. "I had never anticipated such a positive reaction. People tell me, 'Wow, at last, somebody understands us!' The best reaction I have gotten came from a non-naturist viewer who said that he had never seen so much nudity in a film, that wasn't in the least bit smutty. When I heard this, I thought, 'Bingo!'"
Read the interview with Athena Demos.
Algemeen, 12.03.2005 @ 12:06