Jessica Jones is an abusive antihero
Abdirashid Suleiman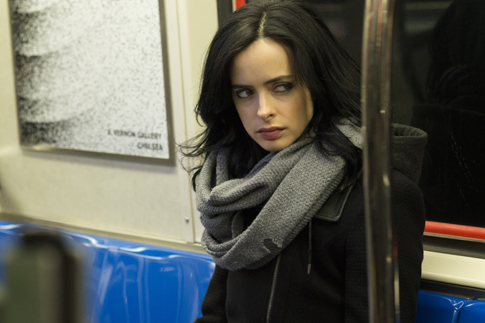 Jessica Jones is at times introduced as a feminist tv show, but does this statement hold any value? My take on Jessica Jones season 1: it should come with trigger warnings.
The landscape of the tv industry is no longer the same. The industry is changing at a faster pace than 'liberal' Hollywood. After the success of Daredevil on Netflix, we're introduced to another Marvel tv show. This time with a female lead character, Jessica Jones.
Jessica Jones is a previous heroine turned a private detective. She's dealing with her abuser and rapist Kilgrave. The moment she finds out Kilgrave is back for her, she almost instinctively wants to flee. This makes us all wonder about Kilgrave's character. He controls people with mind control and does not seem to have a conscience at all. And even after hurting Jessica he asks her to 'smile'. Which shows his psychotic personality, but also a typical trait of an abusive person.
No hero but antihero
One of the things that I like about Jessica Jones is that she makes no issues of her being a woman. Her being a woman is never put central. She's just… Jessica. And that is refreshing. Unlike CBS' DC Comics Supergirl, who compares herself to Superman often. But what's disturbing is that things often get done no matter who gets hurt. It's clear she's no hero, but an antihero.
Because of her being the lead character, one might even miss that she's abusive. You want to root for her, but then notice some things are off. Jessica stalks Luke Cage and has sex with him multiple times without telling him that she killed his wife Reva Connors. Although Jessica was under the influence of Kilgrave then, this does not excuse her from not telling it. She purposely denied Luke to have a 'relationship' with her in an informed and honest way. That is misleading and a form of abuse. Luke Cage's strong physique and him being a man doesn't make it any less terrible. She goes great lengths to stop him to find the truth. The dishonesty even got a bus driver wounded, because Luke thought the bus driver was responsible for Reva Connor's death.
Black man
It's clear Jessica and Luke have very different experiences in life. Luke let's Jessica know at two different moments that he doesn't want anything to do with the police. At one moment he tells her 'Take it down a notch, Jones'. Within the universe of Marvel's Jessica Jones, Luke is aware of his hypervisibility and disadvantage as a black man. Even with his unbreakable skin.
When Ruben, an upstairs neighbor, tells Jessica that 'Everyone's a little bit racist', she takes advantage of that. She uses her neighbor Malcolm, a black man, to create a diversion in the hospital without him knowing he's taking part in it. She clearly notices her position as a white woman and his disadvantage. Scenes like these can be triggering. Especially in the eyes of people of color. It shows how power works and how some people instead of going against it, use it for their own benefit.
Gay characters
I'm glad the tv show introduced female characters that didn't need a man to save them, a classic patriarchal trope. Trish Walker is a successful radio host and she knows how to defend herself. Jeri Hogarth is a powerful attorney and a visible non straight character. But in my opinion, the greatest people to lose in the tv show were girls/women of color. If we weren't seeing Reva Connors die again, it was a black woman cheating on her husband, or another angrily saying 'I don't have time for this' or a little black girl using profanity or even her mother saying 'stay away from her'. I almost lost hope for women of color in the tv show until I saw the final episode when Rosario Dawson's character, Claire Temple, got a greater positive role.
The tv show Jessica Jones is forward enough to introduce multiple perceived lesbian and gay characters and strong white women, but is not forward enough to take a stand against racism. If Jessica Jones is a feminist statement, it's one that goes on the backs of people of color. And that is no feminism at all.
Good guy
Jessica Jones season 1 is triggering and deals with issues that we need to talk about. Abuse, rape and getting over trauma. But this should not deter us from critically talking about the lead character Jessica Jones. Abuse is abuse. Whether it's done to women or men. When Jessica and Claire are indirectly talking about Daredevil, Jessica asks 'How's he so sure he's the good guy', it made me think. Jessica, how are you sure you're 'the good guy'?
Abdirashid Suleiman has two blogs: A New Insight, where this piece was published first, and Somali Times, about various things Somali. You should really follow him on Twitter for an often unexpected take on multicultural society, racism, islam, gender and super heroes.
English, Gastschrijver, 08.12.2015 @ 07:58
2 Reacties
op 08 12 2015 at 21:37 schreef Sasha Berkman:
I'm going to check it out. Being kinda of a fan of Daredevil.
op 10 12 2015 at 12:10 schreef Paul:
Although JJ is just again another troubled p.i./detective/cop with major personality issues, that didn't stop us from binging the whole first season in a weekend.