Masculinity going awry in From Miyamoto to You
Peter Breedveld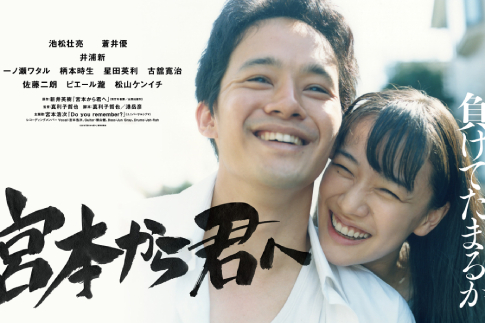 A couple of years ago I saw Mariko Tetsuya's Destruction Babies, a violent film about two young men randomly attacking people, beating them up, leaving a trail of destruction through I don't remember which city. It is an angering film, frustrating because the viewer is not given a purpose for all this mayhem, it's senseless and dumb. The most frustrating thing about it was that it was so beautifully done, exhilarating, compelling, but it had no morale.
I realised I was watching a movie by the same director somewhere half way through From Miyamoto to You, which has the same raw energy and frustrating senselessness, the exact same feel as its predecessor. From Miyamoto to You is about the somewhat volatile love affair between Miyamoto Hiroshi, played by Ikematsu Sosuke and Nakano Yasuko, played by Aoi Yu. Yasuko is raped by the son of one of Hiroshi's colleagues, a dumb hulk of a guy, straight next to Hiroshi, who is fast asleep after a night of heavy drinking. The rape scene is long and violent and frustrating, because there's no hope for Yasuko's rescue.
After he learns about the rape through Yasuko, who was just recovering from an abusive relationship, Hiroshi makes it all about himself. He feels the rape is an attack on his manliness and wants to kill her rapist, but doesn't stand a chance. The guy knocks him out with one blow and breaks three of his front teeth. Taken aback at first, Hiroshi regains his courage after he floors Yasuko's abusive and manipulative ex in a fit of rage and tries to destroy the rapist again, apparently prepared to die in the effort.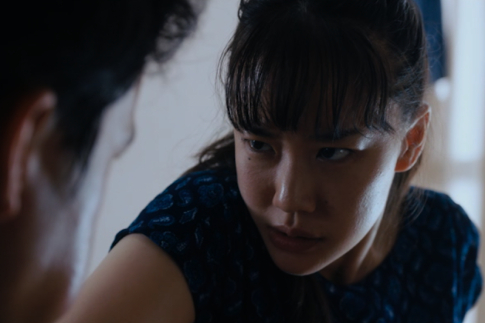 Yasuko is revolted by this and angry at Hiroshi for not having protected her, like he promised he would. At the same time she seems to feed his rage and encourage his determination to kill her attacker, sending mixed messages that only make him wilder. She says it's too late for revenge, that the rape is a fact and he wasn't there to help her, at the same time she scorns him for coming up with excuses for not having given the rapist his just deserts already.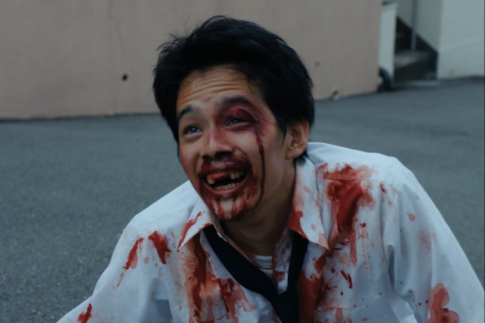 All this does not eventually end up in a lesson about the futility of revenge, toxic masculinity or the position of women in Japanese society. Mariko has the audacity to leave moral judgment to his viewers. He just shows an erratic, weak-minded, Hamlet-like guy getting extremely violent, while his pregnant girlfriend has to deal with the consequences of the rape by herself. Mind you, the movie gives us a totally realistic, relatable and nuanced portrayal of the emotional reactions to a violent rape, it's just probably not what a woke person would be very happy with.
From Miyamoto to You is based on a manga series about office worker Miyamoto Hiroshi and Mariko took, I understand, the middle part of the series for his film. Fine acting is delivered by all the actors involved, certainly by Ikematsu Sosuke, who usually plays nice, easy-going guys but Aoi Yu, she's something else.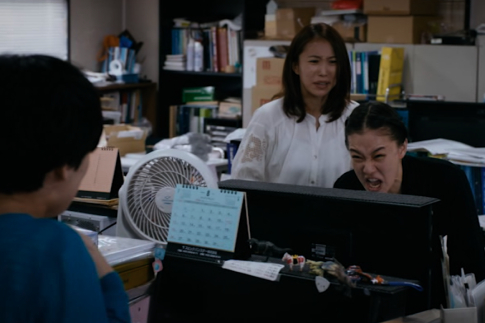 Until a few years ago I always saw Aoi playing strong but soft-spoken women. Determined but sweet. She does look like a graceful princess from the Edo period, or the ideal daughter in law. Then she played an eccentric, volatile character in Yamashita Nobuhiro's Over the Fence (2016) and since then directors made her unleash her inner lioness in several films, notably in Shiarishi Kazuya's Birds Without Names (2017) and Tsukamoto Shinya's Killing (2018).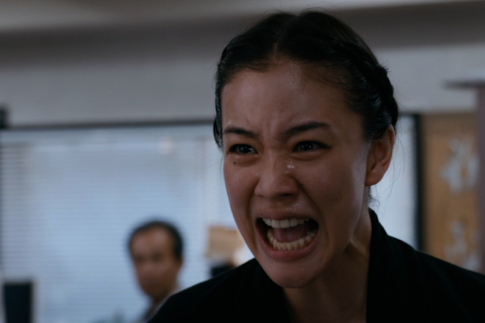 In From Miyamoto to You she goes all Taming of the Shrew, venting her rage and furious anger like a wrathful goddess, really breath-takingly intimidating. A chunk of raw energy, a super-nova, a thing to behold. Aoi is truly one of the great living actresses, seemingly effortlessly tapping from a broad range of moods and emotions, always completely natural, like her character is really real, a woman you could know.
English, Film Reviews, Peter Breedveld, 17.02.2021 @ 15:54