Minori doesn't take shit from anybody
Peter Breedveld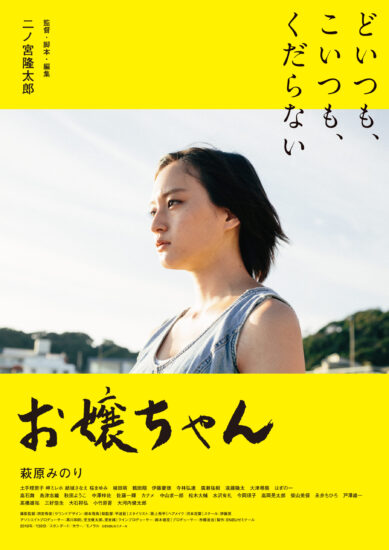 There's nothing particularly attractive about Ninomiya Ryutaro's film 'Minori on the Brink'. It's not a sweeping drama and there's no cinematography to speak of. If I said the camera-work is static, that would be an understatement. We're mostly looking at people talking, always from the same angle. The lighting is stark and makes the actors downright ugly in some scenes. There is sound, but I wouldn't go so far as to say there's a soundtrack. As for the editing: there's a sequence of different scenes, it's done decently enough.
And yet for the 2 hours and 9 minutes this movie lasted I sat glued to my chair with bated breath, absolutely fascinated by what transpired on the screen. It starts with a young couple and a small kid on the beach, then a group of young women talking about sex, then three guys talking about sex, interrupted by a girl who starts to pick a fight with one of the guys: she is Minori. She accuses him of attempted rape, blocks his way, kicks his ass and forces him to beat an undignified retreat.
Typical Japanese
Minori is perhaps not what you would imagine to be your typical Japanese: she is direct and confrontational and absolutely devoid of hypocrisy. She's not the keeping-the-peace-type and has a coarse sort of humour. She challenges people with her big piercing eyes and she seems continuously angry, although she wears the same facial expression for most of the film, a kind of stone face that reminds me of Buster Keaton, and at times made me chuckle a little, for instance when she threatens a guy she's flirting with to split his head open with a remote control.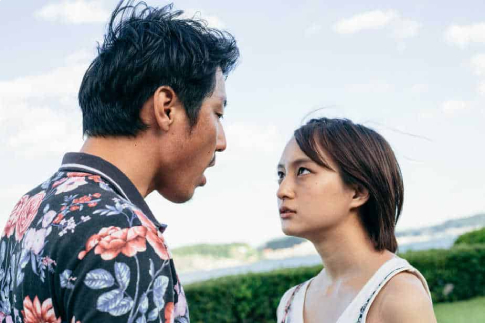 Minori doesn't so much fight sexism as bluntly refuse to abide by the rules. She challenges her grandmother, who complains about her walking around the house in her underwear but never said anything when her father did the same. A guy she had sex with but sees his love for her unrequited, wants to know why she had sex with him. "Because I wanted to", she says. "You did too, didn't you?" She demands his apology when he calls her a slut, he doesn't apologise but says that she's crazy and walks away.
Her attitude is unconventional. Her friends, a lot more conformist, like to hear her out about her preferences, to giggle about her abrupt straightness. She finds lonely men attractive, she sees no reason to reject a guy just because he's over 50. She's deeply humanist and genuinely interested in other people, she just will not be constrained by what she sees as unfair restrictions by society.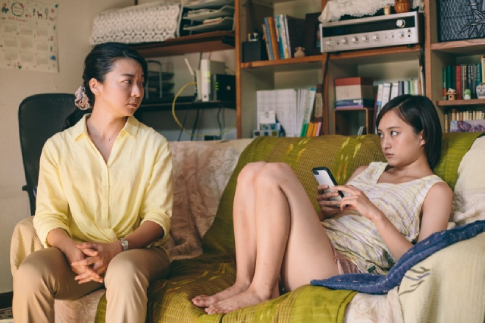 Sorry for getting raped
The acting by everyone involved in this film is naturalistic with sometimes a little overacting and the scenes seem largely improvised. Ditto for the dialogues. The movie seems almost like a documentary about young Japanese and their attitudes towards sex in the age of #Metoo. Not only Minori's, but also her best friend, a girl who's sorry for everything. Sorry for giving the wrong impression, sorry for standing in the way, sorry for almost getting raped.
It's about the guys in town (it's Kamakura), who talk about banging girls and getting away with assault, but there are two guys who decide to beat up their friend for bragging about bullying a girl (first they make him take his glasses off). There's a funny conversation between three guys about cute women averagely earning 30 million yen more than plain girls, which justifies being rude to cute girls, but you have to be extra nice to plain girls.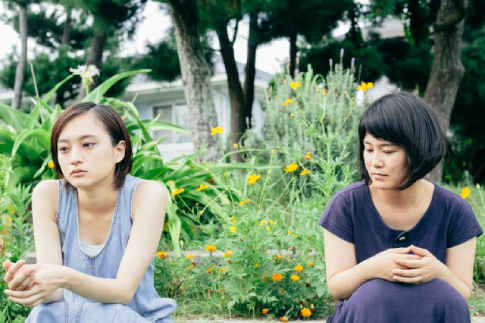 Take shits
What's remarkable is that nobody in the film has any grand ambitions. Minori's friend wants to go to Tokyo and that's about it. Minori asks a man she knows about his job. He explains he plays pachinko (a crossing between pinball and a slot machine, I guess) for money and is ashamed to tell his young daughter. Minori herself seems content with her part-time job at a ramen shop. "I play games on my phone, sit with my friends in the park, eat good food, I take shits, have sex sometimes, isn't that happiness?", she asks her friend.
"The way you talk sometimes", she answers.
Film Reviews, Japan, Peter Breedveld, 04.08.2020 @ 13:43