Rebels for a hopeless cause
Peter Breedveld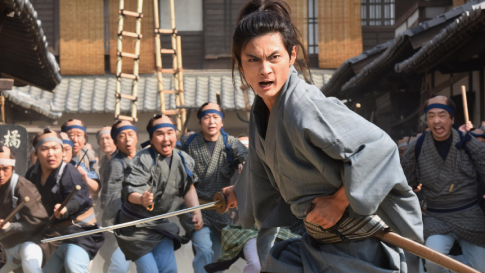 Love's Twisting Path by 85 year old veteran director Nakajima Sadao starts promising enough. Rebellious samurai conspire to overthrow the military government of Japan, which has just opened the country to foreigners after a three hundred year period of hermetic isolation from the outside world. Japan is about to modernize, but many Japanese fear for Japan's independent autonomy and identity and rebel against the shogun, the military leader, choosing the emperor as their leader and inspiration.
The rebels try to convince Kiyokawa Tajuro (played by Kora Kengo) to join the fight on their side. Kiyokawa is an excellent sword fighter, but an impoverished samurai, trying to earn a modest living painting patterns for a kimono maker. When he's not painting, he drinks his life away. When one of the rebels angrily attacks him, he proves to have lost nothing of his skills and reflexes, though. Which makes the insurgents all the more determined to convince Kiyokawa to fight for them.
But he will not hear of it. The money they have delivered to him, he immediately squanders in an inn and while he paints his tangerines and flowers, rebels around him are chased and killed by the police. There is a woman, Otoyo (played by Tabe Mikako) who tries to get him sobered up and on the right track again, but he hardly acknowledges her.
Dark flaming eyes
The authorities nevertheless become aware of the potential danger he poses and track him down. Because the local police is too scared to arrest him on their own, the shogun sends a whole army to take him in. A spectacular scene involving a cornered Kiyokawa against a mass of soldiers ensues, and then all goes downhill when he escapes into the woods, trying to shake off his pursuers.
The action scene in the woods is too long and very dull. There is not one interesting sword fight, instead we see Kiyokawa wildly swinging his sword, the camera focusing on his handsome face and dark, flaming eyes. Meanwhile Otoyo flees the city, accompanied by Kiyokawa's younger brother, a rebel who had been blinded in a fight with the police alongside Kiyokawa. Nothing really eventful happens here either. We switch back and forth between the fleeing Otoyo and the struggling Kiyokawa, back and forth, back and forth, for a very long time. The musical score, at this point, begins to irritate because of its tacky melodrama. We're listening to a trumpet serenade, as if we were watching an old spaghetti-western from the sixties.
Director Nakajima seems to be saying something about the myth of the samurai. He's won his spurs directing many samurai and yakuza dramas in the sixties, and many scenes are clearly a throwback to these old movies. But the rebel samurai being surrounded by sword fighters don't kill their attackers with a few impressive moves after which they spectacularly escape – they just get killed.
When the chief of police hears Otoyo has fled the city with Kiyokawa's brother, he ominously states that catching a blind man will not be so difficult. This seems to be a deliberate reference to the movies about the blind swordsman Zatoichi, immensely popular in the sixties and seventies. The villains in the Zatoichi movies would invariably underestimate Zatoichi, and invariably at their own peril.
Digital cameras
But after having seen the police deal with so many rebels already, the viewer is not left with much hope for Kiyokawa's brother. Nakajima seems to point out that in the real world, being blind is really not very helpful when you have a bunch of armed men on your tail.
Love's Twisting Path seems like a deconstruction of the genre Nakajima specialized in his whole life. But why does it have to end in such a boring way? Why does the film, which started like an old-fashioned movie, with a whole sequence of beautifully lighted, gorgeously framed, atmospherical shots, gradually end with a series of dull, ugly scenes (one very corny and uncreative slow-motion scene) with stark, almost colorless lighting in which it becomes so obvious the filming was done with digital cameras? Is Nakajima deploring the death of cinema, the Netflixization of movies?
Now that I've all written it down, Love's Twisting Path seems like a clever comment on movies by a master director. But when I watched the end credits roll by, accompanied by a really bad pop song, it felt like watching a mediocre magician mess his act up.
Love's Twisting Path was seen at the International Film Festival Rotterdam.
Film Reviews, Peter Breedveld, 28.01.2020 @ 08:19