Stopping the bomb from falling on Hiroshima
Peter Breedveld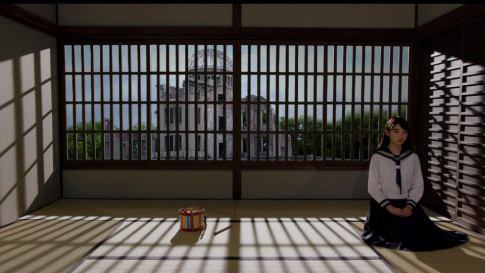 I thought I had seen the last movie by Obayashi Nobuhiko two years ago. That was Hanagatami, a three hour long anti-war epic that he shot when he was being treated for cancer and had been told he had only three months more to live.
But what do I know, right? Two years later the 81-year old master not only is still alive, he finished another three hour long anti-war epic that is even more ambitious and intricate than Hanagatami. I would say his new movie, Labyrinth of Cinema, is the most ambitious and difficult movie he ever made.
While Hanagatami was a strong statement against war and an ode to youth (and a lament about the transience of youth and the loss of purity), Labyrinth of Cinema is an anti-war movie, and ode to youth and a tribute to cinema. The first part of the movie made me think of the Italian movie Nuovo Cinema Paradiso. The elderly proprietors of an old-fashioned cinema in a small Japanese village organize a last viewing for the villagers before closing its doors for good. There's a storm raging, so the house is full.
Atomic bomb
During the screening three young men somehow get sucked into the movie, a Hollywood-style musical, and discover that movies are a kind of time-machine. They travel through classical Japanese war movies to try and stop young Japanese to give up their lives for the destructive goals of their leaders and eventually to try and save the people of Hiroshima from the atomic bomb the Americans dropped on that city on August 6, 1946.
Or at least that's what I think I have been watching. I must say that the story was not always easy to follow, because Labyrinth of Cinema is really fast-paced with dialogues at lightning speed and the events are quite bizarre. Each frame has several things happen at the same time, with images accompanied by written text and spoken dialogue and the movie is full to the brim with references to old Japanese movies, not the least of which are Obayashi's own movies, which seem to be personified by the girl Noriko, who looks like the protagonists of so many of Obayashi's coming-of-age flicks.
Recurring motive is the poetry of Nakahara Chuya (1907 – 1937), the 'Japanese Rimbaud', who foresaw the destructive mayhem Japan would plunge into. 'Dark Clouds Gather Behind Humanity' he wrote. That line is repeated several times in the movie.
Allegorical painting
The movie is like a crossing between a haunted house-ride in a theme park and an allegorical painting by William Blake. Ghostly apparitions pop up all over the place and there's something going on everywhere you look. The movie has the trademarked look of all of Obayashi's movies, a moving collage of images and pictures, deliberately fake-looking, alternately in candy colors and monochrome, with outdated special effects, like in a children's program from the seventies.
Obayashi's message seems ambivalent. Movies have the potential to change the world, yet so far movies haven't been able to stop wars. You can fantasize about preventing the atomic bomb from destroying Hiroshima, but it really happened, the bomb really fell. Okinawa really got raped, youth really gets corrupted by slogans with every new generation.
And yet, Labyrinth of Cinema is not a cynical movie. Hope prevails, hope that young people will break loose form the vicious circle humanity finds itself trapped in. We can at least salute them for trying every time again.
Really strange
I saw a couple of people leaving the room after an hour or so. After the screening when I left, I heard a young woman behind me saying: "I thought it was really strange. Really really very strange." But she had stayed until the end. I have that with every Obayashi movie. They bewilder me but I can't stop watching, I always want to see how it ends and it always stays with me.
Labyrinth of Cinema was seen at the International Film Festival Rotterdam.
Film Reviews, Peter Breedveld, 31.01.2020 @ 09:53