The Best Television Series of 2016
Peter Breedveld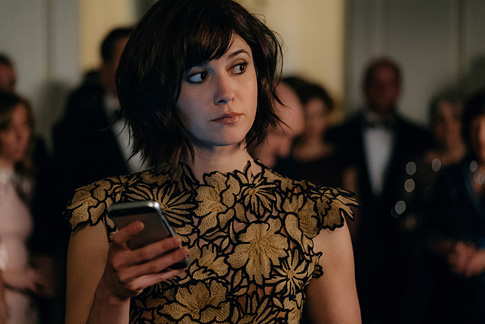 There can only be ten series in a top ten but before we start I would like to point out a few series that you should absolutely not miss. These are Jonathan Strange and Mister Norell, a gorgeous British fantasy series based on the very intelligent novel by Susanna Clarke, the third season of Transparent, of course, in which it becomes clear this is not so much about people discovering their own sexuality as it is about a bunch of totally self-absorped spoiled Californians.
Bloodline, a slow and sultry, dark family drama set on of the Floridan Key islands, Rectify, about a man returning to his hometown and his family after having spent twenty years on deathrow, American Crime Story: The People vs. O. J. Simpson, that I didn't like so much at first but which grew on me after three or so episodes and turned out to be a very intelligent but also heartfelt drama.
And finally but not leastly Better Things, a very funny series about a divorced actress with adolescent children trying to make the most of what is left of her professional and her sexual life.
10: Trollhunters
The animation series Trollhunters has just arrived on Netflix but I dare you to start watching it and not finish it in one go. It looks gorgeous, has likeable characters and it. Is. A. Ton. Of. Fun.
One look at the monsters and you know who is the man behind it: Guillermo del Toro, the genius geek behind some of the best horror/fantasy films of the past ten or so years.
9: The Americans season 4
Half of the time I don't even know what the hell it is Soviet spies Nadezhda and Mischa, who pose as American couple Elizabeth and Philip Jennings, are trying to accomplish. But what makes this interesting is the lives they destroy in the process, including those of their very own children, who don't have a clue who their parents are.
This changes in season 4, as their eldest daughter Paige, who comes under the influence of a Christian pastor, discovers her all American family is just a front.
Despite all the terrible things they do, and the fact that they are spies for America's deadliest enemy, you can't help but root for the Jennings who truly believe they are helping to create a better world for everyone.
The best thing about The Americans are the convincing characters, none of them innocent, many of them quite guilty even, verging on the evil, but every single one of them quite human, with always something to like them for, something sympathetic.
8: The Walking Dead season 7
I was quite shocked and heart-broken after the hyper violent first episode of the new season. I watch this series with my children, who are used to a bit of horror violence, but what happened in this first episode went way way way too far.
The Walking Dead lost a lot of viewers for the same reason, I understand. I, however, hung on and I must say this is the best season so far, grim and bleak as it is.
This is about people dealing with oppression. About loyalty and betrayal, selfrestraint, sacrifice and staying true to yourself.
Imagine your town being occupied by the Islamic State, what would you do? Would you go along and wait for others to liberate you or would you take matters into your own hands and fight?
7: Versailles
Court intrigue, scandalous sex and totally irresponsible speculation about royal black bastard children put away in convents, beautiful women, ugly men and historical costumes. Versailles has everything I wish for in a historical drama.
It deals with the efforts of the French king Louis XIV to break himself free from the suffocating and destructive influence of the French nobility in Paris by setting up his court in Versailles. In the meantime he tries to stop the rising influence in Europe of the Dutch as well, plus there's a whole lot of family affairs to handle, not the least important his recalcitrant brother, whom he has a very strong bond with.
This is a BBC series, but a whole lot more sensational than your average historical drama produced by the respectable broadcasting company, with a lot of historical inaccuracies. This has tight-asses all over the world in an uproar, of course, but fuck them. I love Versailles, and you should too.
6: Preacher
I never expected one my all time favorite comic series brought to the television screen. I expected even less it would be done so well, with the atmosphere exactly right, the colours, the setting precisely as illustrator Steve Dillon designed it. Dillon, by the way, sadly passed away unexpectedly last year. A devastating loss for the comics world, I dare say. His influence will be felt for many many years to come.
This first season takes a very long time to gain momentum but once it is on a roll it gets really exciting. It's violent, brutal, sacrilegious and absolutely hilarious, which was to be expected with Seth Rogen and Evan Goldberg as the producers. Apart from that it has the beautiful, sexy and dangerous Ruth Negga whom I've been following since I saw her first in the British Misfits, one of the best series ever.
Preacher is a gothic western indebted to Sergio Leone, Sam Peckinpah, Clint Eastwood, John Carpenter and Laurel and Hardy. I absolutely recommend the comic by Garth Ennis and the aforementioned Steve Dillon.
5: Penny Dreadful season 3
As was to be expected, there will not be a fourth season of this quite undervalued 19th century pulp fiction series, bringing together a bunch of Gothic horror characters much the same way Alan Moore did with his League of Extraordinary Gentlemen.
This season is even better than the first two, although it is also flawed. Eva Greene, brilliant as she is, is overdoing it at times with that low, dramatic voice of hers and I hate that whiney Frankenstein's monster, absorped by his self pity. Also the finale I found a little bit underwhelming.
And I couldn't believe the way a native American character was introduced, by having him scalp a man in his first scene. Isn't that, like, a little racist?
Other than that: the atmosphere, the intrigue, the scenery, the whole look of this series is a sheer delight. Lots of steamy sex too.
4: Peaky Blinders season 3
Peaky Blinders is about a criminal family in Birmingham, led by traumatised World War I hero Tommy Shelby, played by the incredibly handsome and charismatic Cillian Murphy. It's brutal and atmospheric, beautifully filmed with gorgeous acting.
The best thing about it is Thomas Hardy as the fearless Jewish gangster Alfie Solomons, a total psychopath and a treacherous bastard but with a code of honour, albeit twisted, and impossible to hate.
3: Better call Saul season 2
This season is better than the first season, although I liked the beautiful cinematography of the first one better, with lots of beautiful shots, reminiscent sometimes of the paintings of Edward Hopper.
The camera people seem to have toned it down a bit for the second season, which for a large part revolves around the relationship of Saul Goodman with his brilliant but deranged lawyer brother. There's a perfect balance between (dark) comedy, ruthless crime drama and melodrama here.
I find it admirable how the writers always come up with situations which seem utterly hopeless and then find a solution to it which doesn't ask too much suspension of disbelief.
Still not as good as Breaking Bad, of which this is a spin-off, but pretty good.
2: Mr. Robot season 2
The hunt for the hackers from season 1 is on, because they dealt quite a blow to the world economy. In this season form takes over from content and that is a very good thing. The makers find completely new ways to tell the story, for instance by telling the story of Elliot Alderson's childhood through the guise of a sitcom, complete with canned laughter. Utterly bitter and tragic events thus become wise cracking jokes and silly gaffes, paradoxically not sugaring the bitter pills but rather emphasizing their traumatic effects.
I think that's a work of genius. Aside from that things stay tense and there's a lot of nail-biting intrigue. Looking forward to the third season very much.
1: Braindead
You'll be completely mislead by my description of this series, but here goes: a meteor crushes on earth, infesting it with extraterrestial ants that crawl into people's ears, eating half their brains and turning them into extremists. If their heads don't explode, that is, which sometimes happens. The idea is seemingly to have the people annihilate each other so aliens can take over earth.
And it's on the the protagonist of this series, Laurel Healy, the sister of Democratic senator Luke Healy, who functions as his assistant until she finds the funds to finish her documentary on the yodel music of the inhabitants of some Pacific island, to stop the alien invasion.
This sounds like a science fiction C-movie from the fifties but it is really a political satire cum soap, made by the same people who brought us The Good Wife, of which I really am not that big a fan. This is the most fun thing I've seen on television last year. It's funny, it's exhilarating and thought provoking and I learned a few things about American politics that was not alwas completely clear to me.
Lauren Healy is played by the gorgeous Elizabeth Winstead, but it is Tony Shalhoub who really steals the show as the sardonic Republican senator Raymond "Red" Wheatus, one of the first to be taken over by the ants. Shalhoub, a brilliant comedian, has the best lines: "I have absolutely nothing in common with you! You want to give welfare to the poor!"
At the beginning of each episode a guy with a guitar sings what happened in the eposides before. Quite funny.
Unfortunately the show was not a commercial succes, so it was cancelled after only one season.
See also the Best Albums of 2016 and the Best Movies of 2016. Coming up: the best comics/graphic novels and the best games.
Lists, Peter Breedveld, Television, 07.01.2017 @ 14:57
5 Reacties
op 08 01 2017 at 01:58 schreef Robin:
"and a handful of series that you also shouldn't miss, or shouldn't have missed."
Don't forget:
3: The OA
2: Stranger Things
1: Westworld
op 08 01 2017 at 20:42 schreef Sasha Berkman:
tip voor 2017:
http://www.imdb.com/title/tt3647998/
op 09 01 2017 at 23:32 schreef Max Molovich:
Slaap jij eigenlijk wel? Want hoe kun je anders al die films en series zien, al die albums beluisteren, al die strips lezen, deze website volschrijven, Twitter op stelten zetten, naaktplaatjes zoeken, vakantie vieren, voor je schoolkrant werken én 420 virtuele sock puppets in de lucht houden?
op 10 01 2017 at 07:32 schreef Ananta Gd:
Versailles? Echt waar? Wat is dit voor C-lijst?
op 10 01 2017 at 08:23 schreef Peter:
Slaap jij eigenlijk wel?
Ik volg geen sport en ik open mijn post nooit. Zeeën van tijd daardoor.