The best TV-series of 2018
Peter Breedveld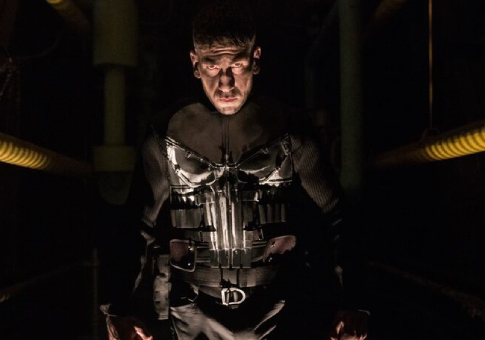 Series I loved but were included already in my last couple of years' lists are Mr. Robot, Legion, The Deuce (Maggie Gyllenhaal's face is one the world's amazing wonders), The Handmaid's Tale, Preacher and Better Call Saul, which gets excellenter with every new series, although the aging actors make it increasingly unbelievable this plays before the events in Breaking Bad, which ended five years ago.
Everybody loves the concluding series of The Americans, I don't, except for one episode, I think episode six, a Hitchcockian crime thriller in which Elizabeth Jennings discovers there's a child sitting in the living room of the apartment where she just killed a couple. And the flowing camera-movement with which this revelation is made, it gave me goosebumps.
Pirate adventure
I was disappointed in the concluding season of Versailles too, which I adored the first two seasons. Plot-holes and rushed endings and the scenes taking place in the city of Paris where ridiculous. Always the same small square with the same group of twenty or so people. Embarrassing.
The fourth season of Peaky Blinders was horrible, with Adrien Brody playing a ridiculous caricature of an Italian mobster. Also all the macho gorilla posturing was a little too overdone for my taste.
The series I enjoyed most this year is from a couple of years back but I only discovered it recently: Black Sails, a pirate adventure that is supposed to be a prequel to Robert Louis Stevenson's novel Treasure Island. Extremely well written, beautifully filmed with spectacular battle scenes, among the best I've ever seen, in which grim, uncomfortable facts like the transatlantic slave trade and sexual violence are candidly faced and dealt with.
Cruel jerks
I was severely disappointed in Killing Eve, with the wonderful Sandra Oh. It started very promising and then went off the rails in mind-staggering fashion. Basically this turned out to be about smartass, cruel jerks making funny faces and unfunny comments. I did like The End of the F*cking World a lot.
Here follows a list of ten of the best TV-series I have seen this year. Take note that there's a lot of series I have not seen, simply because I don't have the time to see everything. But there might be a few series here which went under your radar and you might want to give a try.
10: Derry Girls
Hilarious comedy, set in the nineties, when Northern Ireland was still occupied by the British, about four not-too-bright Irish Catholic schoolgirls and a British bloke. Sardonic, sarcastic, mean, witty, goofy and totally absurd. Brilliantly written and acted impeccably. Second season coming up.
9: The Alienist
Stylish period crime drama set in New York at the end of the 19th century, the birth place of our own modern era. Rational science was taking over from instinctive superstition, but not quite yet. A psychologist teams up with a news paper illustrator and the secretary of police commissioner Teddy Roosevelt (a historical figure) to find a serial killer who murders boy prostitutes. Mystery, a hint of the supernatural and stark social commentary about the deplorable state of the poor make this a series which strongly echoes Alan Moore's Jack the Ripper-epos From Hell.
8: Sharp Objects
Another serial killer story, set in the deep south of the US this time, where folks are still not over losing the Civil War, or so is my impression from all the books I read and films I watched.
The excellent Amy Adams plays a mediocre journalist who is sent to her former hometown to write about a series of grissly murders of teenage girls. She is reunited with her family and old wounds are opened and slumbering traumas are reinvigorated.
This mini-series relies mainly on the sultry mood and the psychological decline of Amy Adams' character under the psychological terror of her tyrannical mother. Utterly sad and depraved.
7: The Little Drummer Girl
One of my favorite directors, Park Chan-wook (Old Boy, The Handmaiden) shows a lot of restraint in this meticulously directed series based on a John le Carré book and starring one of the greatest actors, Michael Shannon.
It's set in the seventies and concerns a leftist British actress, played by Florence Pugh from the excellent Lady Macbeth, being recruited by the Israeli secret service to infiltrate into a pro-Palestinion terrorist organisation.
This is a very nuanced story about the ambiguity of good and evil, brimming with atmosphere. Having been to some of the same locations as a kid in the seventies, it struck me how extremely well that typical seventies look is recreated here.
Otherwise this is leaning more on mood than on thrills, you have to have a taste for it.
6: Ash versus Evil Dead
Would you believe I forgot to include this work of genius in my previous two lists? Director Sam Raimi teams up with Bruce Campbell in this series based on the Evil Dead trilogy, actually on the first two films, because Ash apparently grew up in our own time, ripening into a middle aged loser, a sexist, reactionairy motor-mouth as much out of place in these politically correct times as he was in the apocalyptic future he woke up in at the end of Army of Darkness. But he still knows how to kick demon-ass!
Ash teams up with two hot young people to battle against a legion of undead demons, the Deadites, especially against their leader Lucy Lawless (Xena the Warrior Princess!) and his dad is played by Lee Majors, the Six Million Dollar Man, so what's not to like? Totally over the top, gory, funny, gross, extremely gross – every episode a new boundary of good taste is crossed – exhilarating, beautifully filmed and they killed it. They killed this wonderful TV-series that had no equal on TV anywhere!
Still crying over that one and I hope to see the vertiginously sexy Dana DeLorenzo in some other production soon.
5: Happy!
I hated the actor playing the main character in this, Christopher Meloni, because I considered him a typical American straight guy and I hated the fascist crime series he played in, Law & Order. Besides, Happy! also has a digitally animated, purple unicorn in it. I gave Happy! a try because Grant Morrison wrote it, the genius comic writer who gave us Spider Jerusalem and the most realistic Batman possible, namely a delusional psychopath suffering from trauma.
Turns out Meloni is a great actor, a very funny man, in total control of his body and face – he even acts with his hair – to hilarious comedic effect. He plays a former cop-turned-hitman who is recruited by the imaginary friend of the ten year old daughter he didn't know he had, who is kidnapped by a super-powered Santa Claus who works for the maffia.
Ultra-violent, ultra-funny, ultra-absurd and also a little sad.
4: Britannia
Romans fighting the indiginous Brits who are backed by druids with supernatural powers? When I saw this announced it immediately made me think of Peter Milligan's comic series Britannia and this TV-series does indeed seems to be inspired by the comic. Same zany approach to the same topic. It even looks the same, with the same golden-brown colours and lighting.
Yet no credit is given to Milligan nor to the other comics Britannia draws upon heavily. For instance, the outcast trickster magician who is one of the main characters has more than a passing resemblance to John Constantine from the comic series Hellblazer.
That said, it is one of the most entertaining series of this year, criminally overlooked by the public and the critics, I fear. It is very, very weird.
3: The Terror
Nerve-wrecking period horror adventure psycho-drama about a group of arctic explorers getting stuck with their ships in the polar ice. Besides having to survive the extremely harsh conditions, they are terrorised and murdered, one by one, by a supernatural monster, kind of the polar bear version of Jaws, so to speak. And of course, under these conditions the relationships between the men on the ships are put under extreme pressure.
There will be a second season concerning the internment of Japanese Americans in de Second World War so I am really looking forward to that.
2: The Chi
Do you miss The Wire as bad as I do? Then The Chi is just for you. Written by Lena Waithe (Master of None) this is about life in a, well, bad neighbourhood in Chicago. Crime, love, friendship, sacrifice, corruption and hardship, this one has it all, including a villain who is as charismatic as Idris Elba in The Wire. Not bleak, sometimes very harsh, but mostly endearing and often funny, with characters you will miss at the end of this first season.
1: The Punisher
This is the only series I binged this year (meaning I sometimes watched three episodes in a row), so there. I should abhor this for all the violence and the glorifying of guns and the military, only I don't. I loved it, it touched me. Also I have always had a weak spot for the critical patriotism in stories like this. Frank Miller does the same thing in The Dark Knight Returns and Give me Liberty: one can love his country unconditionally and still hate the corruption and powerplay of its politicians and law enforcers.
Two characters make this series soar: Iranian-American agent Dinah Madani of the Department of Homeland Security, played Amber Rose Revah and the Punisher's sidekick Micro, played by Ebon Moss-Bachrach, the whiny wuss from Girls. Micro powerlessly spying, via his computer, on his family whom he can't contact for fear of putting them in danger, make some of the most touching scenes I ever saw in any series.
Ultraviolent and exploitative, but this pulpy series has a heart and a soul. Read my complete review (in Dutch) here.
Lists, Peter Breedveld, Television, 29.12.2018 @ 13:54