Death in video games
Tom Breedveld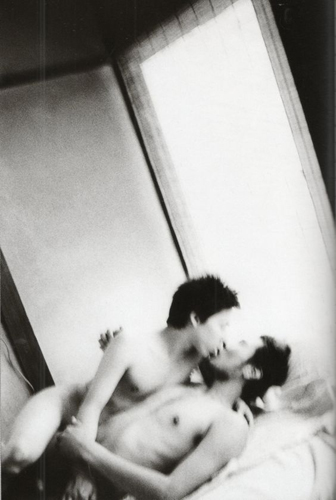 Foto: Sakiko Nomura
It's the old adage: Death is what gives life meaning. In a much more economical sense, this idea has been transcribed to games; death is the driving force that makes a player want to 'achieve'.
Ancient history tells us death in video games used to be a costly affair in a more literal sense of the word, as every 'game over'-screen extracted another quarter from the pockets of the gamers, and this led to the idea of I live – I die – I live again one sees in video games these days (quick, annoying, costly little tricks that serve up a small 'death penalty').
But to look at the philosophical aspect of video games for a second, one can wonder if this technological explanation is the whole reason behind the death system in our video games. What more could there be to it than that? Does death have another function inside the game worlds – or pertaining to the player – as well?
Capitalistic way
If we look at it in a capitalistic way, death in a video game has the goal to create an 'itch' for the player, an itch that scratches what theorists call the yearning for 'follow-up-potential'. The same reason that makes a player want to play the next game in the series (or the genre), is also the reason why a player would want to continue after something as depressing as his own death – the idea that now, there is a horizon, an as of yet unachieved point in the story that can be bridged if the player tries a little harder this next time. Rolf F. Nohr describes it best in chapter four of The Game Culture Reader – 'Restart after Death: 'Self-optimizing', 'Normalism' and 'Re-entry' in Computer Games':
'Thus, no character, no avatar, and no game 'dies' irrevocably; instead, there is always the permanent promise of the re-entry into the game. Computer games postulate that there can always be a new try after a failure: another try that is being taken to avoid the former failure.'
This is, of course, the reason why the idea that 'I'll quit when next I die' rarely works to get a player away from his game distraction of choice. 'What if this time it works?' is usually the follow-up question.
Shock and value
However, this leaves one with certain immersion-breaking problems. Doesn't death become paradoxical if it seems to function as not much more than a mode of time travel? Why even call it 'death', or why even put it in your video game if it doesn't hold the real shock and value and life lessons that death offers, albeit very bitter-sweetly, in real life? Would gamers even be ready for that?
When in 2007 video games became the main medium in which to portray postmodernism and its ideas, one quickly saw how death started to indeed become mocked by game developers. In the game BioShock (2007), death was immediately undone by machines called Vita-Chambers which reinvigorated you with virtually no penalty, ready to resume the fight. After the big plot twist, this exploit quickly turned into a bitter-sweet reminder of how you were powerless to be anything more but the order-following husk of a slave you were meant to be (this pertaining to the gamer as well, of course).
A patch later gave players the option to play the game without Vita-Chambers, and thus, higher stakes, but BioShock proved that death had become a narratological device first, and a gameplay element second.
BioShock was naturally not the first to pertain to these narrative ideas. For example, in The Elder Scrolls III: Morrowind (2002), the player can encounter several different races, one of them being the Dunmer, more commonly referred to as the Dark Elves.
Aloofness about death
The Dunmer have the dubious privilege of being able to count the Three Gods that are worshipped by the Five Great Houses that rule Morrowind (also Dunmer-affiliates) among their stead. These Three Gods, one of whom is known as Vivec, are Dunmer that became immortal and immensely powerful. Their corporeal form is their preferred method of roaming the earth (why fix what isn't broken), and since Dunmer already live quite a long time, the even longer procrastinating of death seems to most Dunmer, and Vivec especially, as not that big of a deal. Regarding a bitter clash that once again left the Three Gods mortal, and Vivec the only surviving one, Vivec is surprisingly calm about the whole situation, stating that being mortals, they would have died anyway, and the only tragedy was them dying the way they did.
It is this 'aloofness' about death that seems to define the Dunmer, as a certain bitter calm prevails in the race. Death is a footnote, and an erasable one at that, that merely asks for extra caution when fighting those who are stronger than you. As Greg Esplin describes the human race in his article 'On Video Game Death and the Possibility of 'Extra Life'':
'In his foundational work Being and Time, Martin Heidegger explores how human beings live in an odd state of anticipation of their own death, Being (Da-sein) providing the foundation for his understanding of human existence as a sort of "being-towards-death," in which the mortal exists suspended over the abyss of the "not-yet" state of future death. Essential for Heidegger's metaphysical orientation is the fact that each person's death is unique, insofar as there remains no possibility for the substitution of one for another.'
Damsels in distress
The Dunmer seem to break this mold, if simply because the abyss is so far ahead of the Dunmer, and even then the idea of an afterlife is inhabited primarily by more Dunmer who found a way out and became immortal – death seems to be, in the eyes of the Dunmer, simply a matter of acquiring more life. After all, what exactly definitely proves Vivic is mortal except his word?
This aloofness is of course, shared by the player, who also has no fear of death, as life will be right around the corner, all the time. This does not change the player into a supernatural, immortal being (death is still a cumbersome event, and a challenge can still be too hard for the player), and it does not change the player into the savior of all mankind (or elvenkind, etc.), since his gift is not known to the world around him, and the player has no way of communicating this to his peers. Rather, the player becomes a person who, like so many main characters of neo noir stories like Sin City (1993) and Max Payne (2001), has nothing to lose and a part to play. Damsels in distress will be rescued, and mustache twirling villains will be defeated, but the only catharsis will be that balance has once again been restored and a tale has once again been told. We do not simply start in medias res, but end that way too, and the only reason this isn't immediately apparent is because the next part of the tale, in which the scales have once again been tipped in whoevers favor and must be set right, has not been written yet.
Death, put simply, is only really achievable in the form of completing the game, and having no more quests left.
Buddhist streak
This sentiment is given a name and a face in The Elder Scrolls V: Skyrim (2011), with The Dark Brotherhood.
The Dark Brotherhood worship a deity called Sithis, a literal representation of The Void, where many Brotherhood initiates expect to end up after death. The Void is the absence of all else. There is nothing, and everything. It is not Hell, it is not Heaven. There is no fear, there is no joy. Sithis is not a cruel or mercurial God, Sithis is not a man or a woman who has a will to impose, Sithis is. And isn't. That's it. Anthropomorphized for convenience's sake, Sithis is simply what will happen when nothing will happen anymore. As discussed before, Sithis/The Void is the game world, after all the gaming has been done. When a game is shut down and forgotten, do its characters die? For that matter, do they live?
This Buddhist streak is certainly not a novel concept in any game. In The Darkness (2007), main character Jackie Estacado is killed three times and ends up in Hell (a never ending trench war reminiscent of World War I), but only finds peace after the credits roll and he is reunited with his murdered girlfriend one final time, who tells him that 'this too will end' . Gordon Freeman of the Half-Life series (1998 – 2007) is the main character because he is the only person who has access to a quicksave key.
It's not that these characters never truly die, it's that they never truly live, as they are an almost ghost-like apparition that has a tale to tell, struts and frets his hour upon the stage, and then is heard no more.
Tom Breedveld (1994) is film student by day, crime-fighter by night. He's also a smart-ass.
English, Games, Tom Breedveld, 15.04.2016 @ 08:43
3 Reacties
op 15 04 2016 at 11:18 schreef Daan:
Isn't this what drives us in any game, not just video games or sporting match? If in chess the king is slain, we get to setup the board once again and try to prevent the same mistakes(only to make new ones)
And do videogames teach us to try our best in this life to achieve the most, or do they just lure us into a void of a faux sense of wellbeing and achievement while wasting our precious real life time to a virtual world.
Gordon Freeman's quick save always made me feel like cheating, but it was fun to see in which wicked ways you could get the scientist in the garbagecontainer killed and let him die over and over again.
op 15 04 2016 at 16:47 schreef Doc:
In games, death is not the end of a character, but the end of an achievement.
op 17 04 2016 at 18:33 schreef Maarten:
I'm not sure if it's a broader development in the gaming world, but I've seen the 'Ironman' device make a comeback over the last couple of years. It means that the game offers the player no option to reload the game – it autosaves frequently, making all decisions on the part of the player final. Ironman is often combined with 'permadeath': characters that die stay dead for the remainder of the game.
The possibility of a character permanently dying can give the player's decisions a lot more weight. One good example is XCOM. In this game the player leads an international organisation trying to prevent an alien invasion on Earth. You send out small groups of soldiers to accomplish various assignments and they grow stronger as they gain experience – but losing a soldier means they are gone forever. A few botched missions in a short period of time can basically wipe out the core of your force, making it increasingly difficult to even win the game itself. It also hurts because players tend to get attached to soldiers that have been with them for a long time.