Zombie woman, adulterous woman, bad mother, sweet girl, fake Nobunagas and a katsudo benshi
Peter Breedveld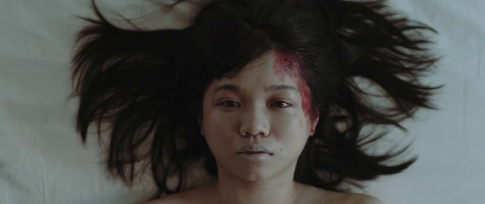 Scene from Beautiful Goodbye by Imamura Eiichi
A week ago I visited the Japan Camera film festival in Rotterdam, which this weekend is held in Amsterdam. Other festivals, like Japan Cuts, were fully online this year due to Covid, so I was surprised Japan Camera did have a physical festival. Measures were taken of course, with a limited number of tickets available for each showing and visitors seated far apart from each other. Japanese movie lovers being the modest, timid people that they broadly speaking are, everybody kept their distance (with a few exceptions) and this year's edition turned out to be a smoothly organised, pleasant event.
With a varied bunch of very interesting movies on its program. I have seen seven films in Rotterdam; quite a few movies I had already seen elsewehere, like for instance Fukada Koji's underrated masterpiece A Girl Missing, which was on the bill of January's International Film Festival Rotterdam too and is now showing in different Dutch art house theatres.
Lump in my throat
I started with One Summer Story by Okita Shuichi, whose A Story of Yonosuke (2012) I especially like. The movie, based on a manga, starts as an anime, which had me confused because I didn't remember reserving a ticket for an anime feature. It turned out to be an animated TV series watched by the protagonist of the movie, a teenage girl named Minami, who bawls her eyes out sympathising with personifications of a bricklayer's materials like Cement and Mortar and such. Her father, played by the always likeable and somewhat goofy Furutachi Kanji, comes home and watches the last part of the anime with her and then, when the end credits roll by and the theme song plays they both sing and dance along with it and it turns out the father knows exactly the words and the steps. I found that so immensely touching that my eyes got wet and I felt a lump in my throat, this father being so involved with his teenage daughter. It made the whole movie for me.
He turns out to be her step-father, her biological father left when she was very young and started a religious cult. Minami, curious to know who he is, decides to go search for him and what follows is a very endearing, touching movie in which, for a change, people make an effort to become closer to each other, despite their sometimes vast differences. An exception is made for one character, a trans person, Akihiro, sibling of Minami's boyfriend Moji, who finds out for her where her father lives (basically by Googling him, which is a funny joke). Akihiro is disowned by her family except her brother but not much is made of that. Nobody else in the movie judges Akihiro for what she is and I wonder if Okita means to say something by only casually having Moji tell Minami his family cast Akihiro out and leave it at that.
Samurai action comedy
Next was Three Nobunagas, the film debut of Watanebe Kei. A slightly absurdistic samurai action comedy drama that doesn't seem to be able to decide what it wants to be and therefore turns out to be nothing really. The movie is about Nobunaga Oda, probably Japan's best known historical figure, the first warlord to unify Japan after a series of wars in the 16th century, the battle of Sekigahara being the most famous of them. Nobunaga had a number of impersonators looking and behaving like him, to mislead his enemies trying to assassinate him.
Three of these impersonators are captured by I don't remember which clan (the problem with many samurai flicks for non-Japanese is a vast and confusing number of names and allyships and conspiracies piled upon the viewer in the first ten minutes or so, known to any Japanese high-school student but fairly obscure for most gaijin) whose leader is played by an actor, Takashima Masahiro, whose resemblance to Mifune Toshiro (a legendary star, known for his roles in Kurosawa Akira's movies) I thought was baffling.
There's no way of knowing if the real Nobunaga is among the captured impersonators, because nobody has ever met the guy. What follows is a verbal and psychological cat and mouse play between the impersonators and their captors, with flash-backs and reconstructions of what might have happened to decide who is and isn't Nobunaga, with cut and paste photos and goofy sound effects which I guess are supposed to be funny but make those flashback sequences look cheap, like there was not enough budget. Comedy alternates with unspeakable cruelty and some melodrama, not uncommon in Japanese cinema, but here it just doesn't work. There is some action at the end but then it's too late. Three Nobunagas doesn't do it for me, although the overall cinematography is quite beautiful.
Feminist melodrama
My third film was Shape of Red by female director Mishima Yukiko (no relation to writer Mishima Yukio, which is a pseudonym). I wish it didn't matter what a director's sex is but it matters. Shape of Red is a feminist melodrama about a woman being taken for granted by her succesful husband (and her live-in mother in law) who starts an affair with a former lover from when she studied architecture.
The movie is riddled with cliches (husband only interested in his own sexual needs, wants his wife to stay home for their child, expects her to be available to accompany him at work-related receptions and diners at any given time and wear the dress he wants her to) and even the most sexist European or American will consider the protagonist's battle for recognition of her professional talents and personal freedoms old-fashioned, and wonder why, in her discussions with her husband, she doesn't even consider pointing out that raising their child is his responsibility too. But Japan is, in many aspects, far behind on the strive for equal rights for women and for most couples it would be impossible to equally share responsibilities, because employers still expect their staff to be at the office more than full-time.
But Mishima may not be the subtlest of directors, she is very accomplished and handles her cliches with grace, treating the viewer to many poetic scenes and a soft, intimate sex-scene dominated by warm human skin tones. The actors, especially Indo Kaho who plays the main role, are wonderful and Mishima makes a bold choice at the end, where she has the woman choosing for herself instead of sacrificing herself for the good of her family, which especially for a Japanese audience is probably shocking. I left the projection room satisfied.
Irresponsible mother
The fourth film was a kick in the gut with a steel-nosed boot. I couldn't believe that Mother is directed by the same guy who graced the screen last year (two years ago in Japan) with the sweet, harmonious melodrama Every Day a Good Day with the sorely missed Kiki Kirin.
Then I realised Omori Tatsushi, for it is him we are talking about, directed a couple of movies I saw years ago, namely the perverted, nihilistic and extremely blasphemous The Whispering of the Gods and the understated sympathy-for-a-rapist drama The Ravine of Goodbye and that thus Every Day a Good Day must be the anomaly in his oeuvre and not Mother or the Omori film I saw later on, Taro the Fool.
Mother is a bleak, depressing, angering mix of Ken Loach's Ladybird, Ladybird and Hirokazu Kore-eda's Nobody Knows, about an irresponsible mother of a young boy, constantly bringing in toxic, violent assholes who mistreat her and her son, one of whom gets her pregnant again and then disappears while she spirals down into an ever deepening pit of misery. Indo Kaho from the aforementioned Shape of Red shows up as a social worker who tries to save the family but of course to no avail. The boy grows up into a teenager and is manipulated by her into committing an unspeakable crime. I have watched this film breathlessly and am currently watching all of Omori's other movies.
Zombie woman
Beautiful Goodbye by debutant Imamura Eiichi was the fifth movie I saw on the first day of the festival. I must say, five movies in one day is a bit much for me and it was late, so I dozed off a couple of times during this movie which is an absolute shame because Beautiful Goodbye is a good flick with a fairly unique style.
It's about a zombie woman with her faculties reasonably intact (except for some memory loss) who escapes the morgue and is picked up by a dorky guy in a stolen mini-van who, it turns out, has killed someone to protect someone else. They are pursued by her killer in an atmospheric road-movie that has some vague David Lynch accents but is really a wholly original take on zombies, crime, comedy, romance and road movies, with beautiful images and meditative moments. I especially liked its summery atmosphere.
Entertaining brawl
The last movie I saw was Talking the Pictures by Suo Masayuki, a crowd-pleaser by the same director who conquered the world somewhere in the nineties with the romantic comedy Shall we Dance, remade by Hollywood with Richard Gere and Jennifer Lopez.
Talking the Pictures is a historical comedy set in the twenties (of the last century, but you get that). It deals with so-called katsudo benshis, people who narrated the silent movies shown in Japanese cinema's. They did the voices of the actors and often improvised a story of their own, not necessarily the story the filmmaker wanted to tell, and some of them became so popular people flocked the theatre for the katsudo benshi rather than the movie.
The protagonist of Talking the Pictures, Shuntaro, aspires to be such a katsudo benshi after repeatedly sneaking into the theatre as a child, together with a girl his age whom he later loses sight of. Grown-up, he is tricked into joining a band of burglars to draw people from their homes with his talents as a katsudo benshi, so the burglars can empty their houses. It goes wrong at some point, he escapes and finds work in a theatre run by a middle-aged couple in some town, who are involved in a fierce competition with another theatre owner who operates his business like a crime lord. Shuntaro encounters his childhood girlfriend again, who has become an actress, but the beautiful daughter of his boss' competitor complicates things by setting her eyes on him. Also his former companions and the police catch up with him, while the battle between the two theatre owners intensifies towards a violent climax.
Everything culminates into an entertaining brawl with a lot of running to and fro, shooting, fighting, escaping and getting caught again and so on, but I had hoped for a bit more intelligent ode to the silent film era in Japan, something like Obayashi Nobuhiko's Labyrinth of Cinema, which I saw early this year. In truth, it doesn't really matter that Shuntaro is a katsudo benshi, he could have been anything, an ice vendor or a tailor, and the story would have been more or less the same. A slight disappointment therefore, but not the wrong movie to watch on a lazy sunday afternoon.
Observant readers will now say: "Wait, you said you saw seven movies and yet you review only six! Where is your seventh review! Give us seven reviews, like you promised, you can't just promise seven movies and then review only six!" But I decided to leave the movie I liked best, the best movie I have seen this year so far, for next time, to give it the ample attention it deserves, in an entry all for itself.
So see you in a couple.
Support me:
Become a Patron!
If all readers of Frontaal Naakt, the only true dissident voice in The Netherlands, continuously under threat, donate two euros a month (but feel free to donate a more substantial sum), the fine people who make this website would be financially independent! Bank account number NL59 RABO 0393 4449 61 (N.P. Breedveld, Rabobank Rijswijk), SWIFT BIC RABONL2U reference 'Frontaal Naakt'. No PayPal since PayPal froze our account because of the pictures of nude people on Frontaal Naakt.
Film Reviews, Japan, Peter Breedveld, 04.10.2020 @ 15:46