Free Souad Alshammary
Sarah, daughter of Souad Alshammary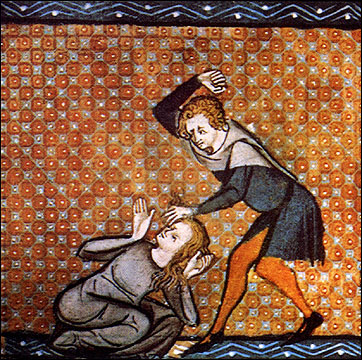 Once upon a time, a Saudi mother lost her seven year old daughter to her ex-husband. It took the mother ten years of her life to get her girl back. That fight, that life-changing experience made her stand up and fight for the rights of all women in Saudi society.
The mother went on and became a journalist and writer, so as to address all what's wrong in our society. She became a women's right's activist and the first woman in Saudi Arabia to defend a client in court. She was the first female lawyer who paved the way for other female colleagues.
Liberal Network
She became the head of the Liberal Network in Saudi Arabia, an organization that stands up for progressive causes in our country and she grew out to be one of the most vocal critics of terrorism, intolerance and religious extremism. She has stood up against religious fanatics who issue fatwas against women driving cars, because according to them it affects a woman's ovaries, and sports activities, because they think they lead to adultery.
In this closed society, that same woman openly supported the King's reforms to empower women and she called upon the government to take a stronger stand against terrorism and extremism. She was furthermore the first to introduce the notion of human rights in Saudi Arabia.
And now, after so many years and such a long fight, her human rights have once again been violated.
Verbal abuse
The little girl who was taken away from her mother was me. My mother is Souad Alshammary, the first female Saudi activist to be arrested because she dared share her thoughts and criticize the religious elite on social media.
The risks were always there and the pressure wasn't easy. From the beginning, she was targeted by extremists and conservative religious leaders. Many people have threatened to kill her and hurt her children. The authorities have blocked her bank account, they prevented her from registering one of her daughters in college and they even stopped her salary. She lives with us, her children, in a rented home, but is not able to pay the rent and bills. My brothers and sisters have met with verbal abuse at school, for being Souad Alhammary's children. And all of this, because she spoke out against those who are responsible for all what is wrong in our society.
Her opponents have repeatedly called for her arrest. They demanded she be flogged. Others have issued fatwas claiming it is halal to kill her. But my mother studied Islamic Law and knows how the clergy abuse the Islamic sources. She is one of the few people who dared to publicly challenge them and question their authority.
Equal rights
And for that, my mother was arrested and jailed on October 28th: because she spoke out against the clergy and demanded equal rights for women via social media. Her crime is tweeting her thoughts. Saudi Authorities have now charged her with 'stirring up public opinion'.
And now she's in a prison in Jeddah. With no court date yet. Handcuffed like a criminal.
Our biggest fear is that if Saudi authorities send her to court, the judge will be another Sheikh, a member of the religious elite who hate her so much. She may be sentenced to ten years in prison, just like other Saudi activists who were sent to jail because of their opinion.
My mother has dedicated her life to all of us. She fought for the rights of every Saudi who wishes to live freely without the suffocating control of the religious police. She fought for every single woman in this country. And now they have taken her away from us. After so many years, it is now I who must fight to get her back.
Future of Saudi Arabia
Souad, my mom, always told me to stand up for what I believe in. I believe in her right to be free. I believe she should be with us, her family who miss her very much an cannot imagine a life without her. The thought of her being sentenced is terrifying and heartbreaking to me and my five brothers and sisters. My mother sacrificed everything to unite us and give us a safe home. The prospect of us being separated is unbearable. Please help her.
I cried a lot while writing this letter. I want to do everything in my power to see her released. I have no faith Saudi authorities will treat my mother fairly.
My mom never quit believing. She never wavered. She never abandoned hope nor her principles. She never stopped giving. Now, let's please give a little bit back to her. Help me, help her. Let us free Souad. My mother. Mother of all free women in Saudi Arabia. She is not only my future and that of my brothers and sisters. She is the future of Saudi Arabia.
Please sign the petition to free Souad Alshammary.
English, Gastschrijver, 08.11.2014 @ 10:32
6 Reacties
op 08 11 2014 at 11:15 schreef vasti:
Your mother is a heroine. To stand up to a system the way she does! Wishing you and your family all the best. Hope that common sense and Love will prevail and your mother will be free to live her life as she wants and with her all woman.
op 08 11 2014 at 15:38 schreef MNb:
Signed.
op 08 11 2014 at 17:51 schreef Thomas E:
Have you been interviewed and broadcasted on Al Jazeera? An emotional statement of yours could set things in motion. Or would that endanger your own life?
op 08 11 2014 at 19:20 schreef Pickelhaube:
My prayers and thoughts are with your mother. I signed the petition and will support any initiative that will result in her release.
op 09 11 2014 at 10:43 schreef teigertje:
A phrase from the song "the rose":
Just remember in the winter,
Far beneath the bitter snow,
Lies the seed that with the sun's love,
in the spring becomes the rose
Wishing your mother, your family and you strenght and love.
She's beautifull.
op 10 11 2014 at 17:08 schreef Help Souad Alshammary | Swap I. Chou:
[…] betreft zie ik hier een overeenkomst met een zaak, die nu speelt. Saoedi Arabië heeft een advocate vastgezet, die tevens een toonaangevende mensenrechtenactiviste in dat land is. Zij heet Souad Alshammary, […]